Webb, Robin (2017) Land at Bridge Farm, Blackthorn Road, Attleborough, Norfolk. [Client Report] (Unpublished)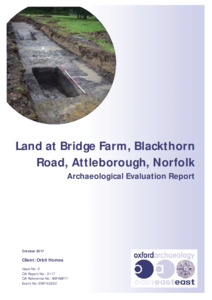 Preview
PDF




Report 2117_LR.pdf


Available under License Creative Commons Attribution Share Alike.
Download (1MB) | Preview
Abstract
Between the 20th and 25th of July 2017, Oxford Archaeology East (OA East) conducted an evaluation at land to the north of Blackthorn Road, Attleborough, Norfolk (centred on TM 0421 9566). The evaluation consisted of five trenches opened across two fields. Previous analysis of aerial photographs of the site show two adjoined ditched enclosures adjacent to the Attleborough Stream (NHER 58610), thought to possibly relate to the 'lost' medieval settlement of Baconsthorpe.
The evaluation confirmed the presence of the enclosures, with archaeological remains dating from the medieval and post-medieval periods being revealed. Disturbance and truncation associated with a modern compound that had been built for works undertaken on the adjacent A11 was identified across the eastern part of the site. Some disturbance was evident across the western two thirds of the site, although the area around Trench 1 appears to have been largely unaffected.
Archaeological features include a large enclosure ditch or moat measuring over 10m wide and nearly 2m deep, forming the southern side of two or more enclosed areas. Although few datable finds were recovered, it is likely that the enclosure/moat was in use during the medieval to post-medieval periods, with the ditch probably finally being infilled in the 19th century. The westernmost enclosure contained a surfaced track, at least one possible beamslot structure and several narrow ditches, along with a number of pits and postholes. Outside the enclosure/moat ditch to the south-east, a smaller (recut) ditch on a similar alignment contained the largest finds assemblage from the site (mostly comprising 14th-15th century pottery). On its northern edge, the ditch was cut by a pit containing the skeleton of a medium-sized dog.
Artefacts recovered from the evaluation include a mixture of Romano-British, medieval and post-medieval pottery, Roman and post-medieval tile and brick and two fragments of fired clay. Also recovered was a residual later Neolithic or Early Bronze Age flint flake, a 17th-19th century clay pipe stem and a post-medieval jetton. Environmental samples from the enclosure/moat ditch indicate good potential for the preservation of waterlogged and organic remains.
Item Type:
Client Report
Uncontrolled Keywords:
archaeological evaluation, norfolk, attleborough, moat, enclosure, medieval, post-medieval, pottery, jetton, beam slot, structure, attleborough stream, baconsthorpe, animal remains, dog burial, track, modern disturbance
Subjects:
Geographical Areas > English Counties > Norfolk
Period > UK Periods > Medieval 1066 - 1540 AD
Period > UK Periods > Post Medieval 1540 - 1901 AD
Period > UK Periods > Roman 43 - 410 AD
Divisions:
Oxford Archaeology East
Depositing User:

Chris Faine

Date Deposited:
13 Oct 2017 07:40
Last Modified:
13 Oct 2017 07:40
URI:
http://eprints.oxfordarchaeology.com/id/eprint/3303
Actions (login required)