Tsybaeva, Daria (2017) Land East of Aspal Lane, Beck Row, Mildenhall, Suffolk. Project Report. Oxford Archaeology Ltd, Bar Hill, Cambridgeshire. (Unpublished)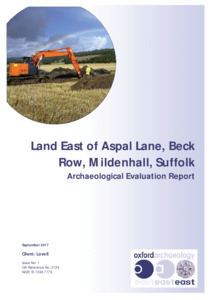 Preview
PDF




Report 2124_LR.pdf


Available under License Creative Commons Attribution Share Alike.
Download (3MB) | Preview
Abstract
Between 31st of July and 7th of August 2017 Oxford Archaeology East undertook a trial trench evaluation at the land east of Aspal Lane, Beck Row, Mildenhall (centred TL 7024 7779). The work was commissioned by Lovell and followed on from a previous phase of geophysical survey and 1% evaluation trenching in 2013. The subject of this report is the second phase of evaluation comprising a total of 22 trenches.
The evaluation revealed a series of post-medieval and modern features comprising pits and ditches, of mostly agricultural use. Some pits are likely to have been for sand extraction and may date to the medieval period. One pit may also be of prehistoric date.
The natural landscape can be characterised as 'hummock-and-hollow' ground with thin layers of peat formed within some of the more substantial hollows.
The archaeology found during both phases of evaluation shows that whilst the site was in proximity to human occupation it was used for agriculture for most of the time. Poor environmental preservation and the sparsity of finds confirm the low archaeological potential of the site.
Item Type:
Monograph (Project Report)
Uncontrolled Keywords:
archaeological evaluation, suffolk, mildenhall, post-medieval, field system, pottery, late bronze age pottery, post-medieval pottery, medieval pottery, agriculture, sand extraction, hummock-and-hollow
Subjects:
Geographical Areas > English Counties > Suffolk
Period > UK Periods > Bronze Age 2500 - 700 BC > Late Bronze Age 1000 - 700 BC
Period > UK Periods > Medieval 1066 - 1540 AD
Period > UK Periods > Modern 1901 - present
Period > UK Periods > Post Medieval 1540 - 1901 AD
Depositing User:

Chris Faine

Date Deposited:
13 Oct 2017 08:03
Last Modified:
13 Oct 2017 08:03
URI:
http://eprints.oxfordarchaeology.com/id/eprint/3304
Actions (login required)