Atkins, Robert (2013) Archaeological Evaluation at Moulton College Holcot Site, Moulton, Northamptonshire. Project Report. Oxford Archaeology Ltd, Bar Hill, Cambridgeshire. (Unpublished)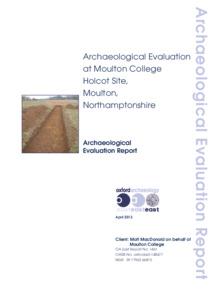 Preview
PDF




Report1461_final_revised_LR.pdf


Available under License Creative Commons Attribution Share Alike.
Download (2MB) | Preview
Abstract
On 8th April 2013 Oxford Archaeology East conducted an archaeological evaluation at Moulton College Holcot Site, Moulton, Northamptonshire in advance of development of student residences, related access roads and car parking.
The evaluation found three ditches in the northernmost trench, but no features were found in the three other trenches. Shallow archaeological remains may only survive within the northern part of the proposed development area as recent landscaping work for allotments etc. may have truncated any features or deposits on the southern and eastern sides.
In the northern trench, two of the three ditches contained small assemblages of Late Saxon/early medieval pottery. Small to moderate quantities of charred grain from bulk environmental samples suggest that waste from settlement activity lay within the vicinity. Two of the ditches within this trench have been recorded as linear cropmarks heading towards Castle Hill less than 100m to the north, a site known for its medieval manor. Other cropmarks suggest the area had contained a sub-rectangular enclosure and other linear ditches. Collectively the evidence suggests the Castle Hill/ Moulton College Holcot site may represent a Late Saxon and/or early medieval settlement covering an area c.200m by c.150m. This is similar size to other comparative nearby excavated settlements of this period in Northamptonshire. The evidence from the development area itself suggests that there is potential for truncation of any extant remains in the east and south.
Actions (login required)