Morgan , Stephen and Brudenell, Matthew and Atkins, Robert (2016) Two Early Iron Age enclosures at Elton Solar Farm, Elton-on-the-Hill, Nottinghamshire. [Client Report] (Unpublished)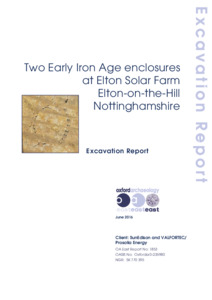 Preview
PDF




XNTESF16_Report_1853_LR.pdf


Available under License Creative Commons Attribution Share Alike.
Download (4MB) | Preview
Abstract
During September and October 2015 Oxford Archaeology East undertook an excavation at a proposed solar farm at land off Station Road, Elton-on-the-Hill, Nottinghamshire. The two separate excavation areas uncovered Early Iron Age enclosures.
The most complete enclosure plan was uncovered in Area 1 where excavation revealed a sub-circular ditched feature with a c.23m internal diameter. The earliest phase of the enclosure consisted of several long curvilinear ditches, with three entrance ways between, linked to a north-south aligned routeway or entranceway which was c.8m wide. The enclosure was subsequently modified with ditches re-cut and a single entrance defined on its northern side. The second enclosure was revealed in Area 2, 0.5km to the north-east of Area 1. This comprised a small sub-rectangular enclosure with an internal diameter of just 9m and a south-east facing entrance. Further ditches abutted the enclosure at both north and south.
Combined, the sites yielded a fairly substantial assemblage of Early Iron Age pottery, animal bone and fired clay, with personal items comprising a ring-headed swan-neck pin and an antler hammer head from Area 1. In general, the material assemblages were very similar from both sites, and were largely recovered from the enclosure ditches. The composition and condition of artefacts was fairly typical of that from domestic settlements in the Early Iron Age, with the faunal record suggesting an agrarian economy largely based on the husbandry of cattle and sheep. Fragments of two human bones were also recovered from separate parts of the enclosure ditch in Area 2.
Item Type:
Client Report
Uncontrolled Keywords:
archaeological excavation, nottinghamshire, elton-on-the-hill, elton, solar farm, iron age, pottery, iron age pottery, round house, roundhouse, enclosure, animal remains, worked antler, settlement, trackway, routeway, post-medieval, field system
Subjects:
Geographical Areas > English Counties > Nottinghamshire
Period > UK Periods > Iron Age 800 BC - 43 AD > Early Iron Age 800 - 400 BC
Period > UK Periods > Iron Age 800 BC - 43 AD
Period > UK Periods > Post Medieval 1540 - 1901 AD
Divisions:
Oxford Archaeology East
Depositing User:

Chris Faine

Date Deposited:
20 Oct 2017 08:37
Last Modified:
20 Oct 2017 08:37
URI:
http://eprints.oxfordarchaeology.com/id/eprint/3315
Actions (login required)