Champness, Carl (2004) Beckton Gas works Sub-surface Deposit model. [Client Report] (Unpublished)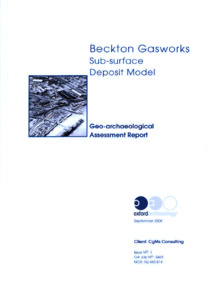 Preview
PDF




BGASOT.pdfA.pdf


Download (4MB) | Preview
Abstract
In September 2004 Oxford Archaeology (OA) was commissioned by CgMs Consulting to undertake a geoarchaeological assessment at the former site of Beckton Gasworks. The primary objective of the assessment was the creation of a deposit model for the area, based on borehole and testpit
records, in order to provide baseline data regarding the subsurface stratigraphy and ultimately the archaeological potential of the site.
The model demonstrated that significant thicknesses of undisturbed Holocene alluvial and peat deposits exist throughout the site, sealed beneath extensive deposits of made-ground. The earliest deposits within the sediment sequence, directly overlying the basal Pleistocene gravels,
may date to some time in the early Holocene when the floodplain area would have been relatively dry. The majority of the deposits however are likely to date from the late Mesolithic period and later and are associated
with the gradual development of wetland environments as a consequence of rising water tables and subsequent estuarine flooding.
The major stratigraphic units identified conform, on a superficial level, to the regional sequences of the Lower Thames outlined by previous work. Closer examination however revealed significant local variations
representative of a range of depositional environments existing at any one time. In some areas these variations are clearly associated with topographic features that were subsequently buried by later alluviation and are no longer visible. Undulations within the basal gravel topography
revealed a significant area of high ground within the central part of the site that may have existed as a series of islands within a predominantly wetland environment from the late Mesolithic period onwards. Inundation
and burial of these areas is likely to have occurred perhaps some time in the mid 2nd millennium BC. Two potential palaeochannels were also identified. One of these may represent a buried tributary of the Thames
associated with the drainage system of the River Roding. The other is likely to represent an abandoned former course of the main Thames channel.
The range of the depositional environments represented at the site have varying potential for the preservation of archaeological and palaeoenvironmental remains. Previous investigations on the floodplain have shown that evidence of human activity has been found in association
with the margins of channels and at the wetland/dryland interface. As such these locations are considered to represent significant areas of archaeological potential.
Actions (login required)