Stocks-Morgan, Helen (2016) Iron Age Remains at Site 9 (Phase 2a ponds and swales), Beaulieu, Chelmsford: PXA and UPD. [Client Report] (Unpublished)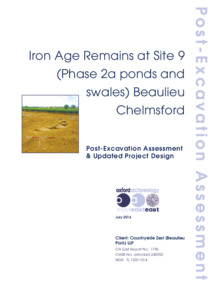 Preview
PDF




XEXBEP14_SITE9_Report 1796_LR.pdf


Available under License Creative Commons Attribution Share Alike.
Download (2MB) | Preview
Abstract
Oxford Archaeology East carried out an archaeological excavation within Site 9 at Beaulieu, Chelmsford (TL 7323 0987). The fieldwork took place between the 10th May and 5th June 2015.
The earliest phase of settlement on site comprises several Late Bronze Age pits which were part of a dispersed settlement. A possible trackway was encountered in the western part of the excavation area, however, this is only datable as being earlier than the Middle Iron Age but is assumed to belong to the Bronze Age.
In the Middle Iron Age an enclosed settlement was established comprising two roundhouses and associated pits. The remains of three cremations were encountered which were associated with this settlement. In the Late Iron Age / Early Roman period the settlement was briefly extended towards the west by the creation of a series of small sub-rectangular fields.
Item Type:
Client Report
Uncontrolled Keywords:
archaeological excavation, essex, chelmsford, beaulieu park, iron age, bronze age, roman, cremation, un-urned cremation, trackway, settlement, roundhouse, round house, field system, enclosed settlement, pottery
Subjects:
Geographical Areas > English Counties > Essex
Period > UK Periods > Bronze Age 2500 - 700 BC
Period > UK Periods > Iron Age 800 BC - 43 AD
Period > UK Periods > Iron Age 800 BC - 43 AD > Late Iron Age 100 BC - 43 AD
Period > UK Periods > Iron Age 800 BC - 43 AD > Middle Iron Age 400 - 100 BC
Period > UK Periods > Roman 43 - 410 AD
Divisions:
Oxford Archaeology East
Depositing User:

Chris Faine

Date Deposited:
20 Oct 2017 12:22
Last Modified:
20 Oct 2017 12:22
URI:
http://eprints.oxfordarchaeology.com/id/eprint/3321
Actions (login required)