Lambert, Paddy and Kwiatkowska, Malgorzata (2017) Land adjacent to Abbey Road, Old Buckenham, Norfolk. [Client Report] (Unpublished)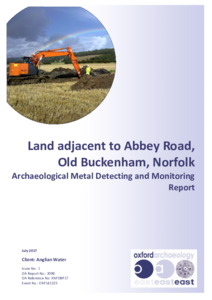 Preview
PDF




ENF142225_Old Buckenham Report_2098.pdf


Available under License Creative Commons Attribution Share Alike.
Download (5MB) | Preview
Abstract
Between 5th and 29th June 2017, Oxford Archaeology East (OA East) conducted a metal detecting survey and programme of archaeological monitoring along selected sections of the Anglian Water Abbey Road, Old Buckenham Pipeline Scheme, Old Buckenham, Norfolk (TM 0849 9356 – TM 0670 9180). In total, 1.87km of pipeline, crossing two trenches and three drill pits, was metal detected and monitored.
Despite the narrowness of the pipe trench and the limited scale of the drill pits, two undated metalled surfaces interpreted as possibly trackways, and a post-medieval ditch were recorded. The trackways were of similar construction with an upper surface of flint and gravel metalling 0.32-0.34m thick, overlying a bed of compacted clay and smaller stones. Whilst neither yielded finds, the trackways are not depicted on any historic maps of the area, and probably pre-date the 19th century. One lay opposite the entrance into Abbey Farm - the site of Old Buckenham Priory and castle (NHER 9202) - suggesting that it may have an association with the site.
With the exception of two 18th-19th century horse shoes, the metal detecting yielded only late 20th century finds, primarily from the area of the Old Buckenham Airfield (NHER 9235). None could be related to the WWII use of the airfield. The only other find from the project was a single residual sherd of abraded medieval pottery of 11th-14th century date from a ditch.
Actions (login required)