Morgan, Stephen (2016) Phases 3a and 3b, Channels Golf Club, Belstead Lane, Little Waltham, Essex. [Client Report] (Unpublished)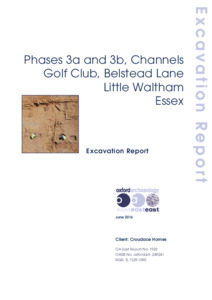 Preview
PDF




XEXCHC16_Report_1922_HR.pdf


Available under License Creative Commons Attribution Share Alike.
Download (12MB) | Preview
Abstract
Between 20th January 2016 and 26th February 2016 Oxford Archaeology East carried out an evaluation and excavation at land adjacent to Channels Golf Club, Belstead Lane, Little Waltham, Essex (TL 7229 1090). Eight evaluation trenches were excavated and on the basis of the results from these three areas were opened.
Evidence of prehistoric activity was recorded in the form of two Late Bronze Age pits and several Iron Age ditches in the northern part of the site. It is likely that the latter of these are the remains of field boundaries.
The results from the southern part of the site demonstrated that activity continued into the Early Roman period with a trackway and ditch being uncovered. Early Roman pits were also found in this part of the site.
During the medieval period an enclosure system was established in the northern part of the site fronting onto the lane to the east.
Item Type:
Client Report
Uncontrolled Keywords:
archaeological excavation, archaeological evaluation, essex, little waltham, golf club, bronze age, iron age, early roman, pottery, field system, trackway, medieval, enclosure, medieval enclosure
Subjects:
Geographical Areas > English Counties > Essex
Period > UK Periods > Bronze Age 2500 - 700 BC
Period > UK Periods > Iron Age 800 BC - 43 AD
Period > UK Periods > Bronze Age 2500 - 700 BC > Late Bronze Age 1000 - 700 BC
Period > UK Periods > Medieval 1066 - 1540 AD
Period > UK Periods > Roman 43 - 410 AD
Divisions:
Oxford Archaeology East
Depositing User:

Chris Faine

Date Deposited:
20 Oct 2017 13:51
Last Modified:
20 Oct 2017 13:51
URI:
http://eprints.oxfordarchaeology.com/id/eprint/3323
Actions (login required)