Haskins, Anthony (2016) Excavation at George Gibson Close, Exning, Suffolk. [Client Report] (Unpublished)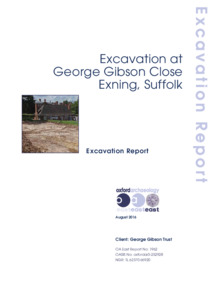 Preview
PDF




XSFEGG16_Report_1962_LR.pdf


Available under License Creative Commons Attribution Share Alike.
Download (1MB) | Preview
Abstract
Oxford Archaeology undertook a small excavation following evaluation trenching prior to the construction of a new community centre and garage blocks at George Gibson Close, Exning, Suffolk (TL 62370 65920).
The works identified a series of pits. The earliest pit was dated to the Iron Age and may be associated with the significant Iron Age activity to the east at No. 7 The Highlands.
The remaining pits were spaced in two parallel lines 9 metres apart and contained vitrified fuel ash, suggesting that they are of post-medieval date. The pits are likely to have been used for planting trees as part of the landscaping of the parkland around Exning House. They show good correlation to the tree band planted around Exning House after enclosure in 1812.
Item Type:
Client Report
Uncontrolled Keywords:
archaeological evaluation, archaeological excavation, suffolk, forest heath, exning, newmarket, iron age, post-medieval, tree line, exning house, 19th century, parkland
Subjects:
Geographical Areas > English Counties > Suffolk
Period > UK Periods > Iron Age 800 BC - 43 AD
Period > UK Periods > Post Medieval 1540 - 1901 AD
Divisions:
Oxford Archaeology East
Depositing User:

Chris Faine

Date Deposited:
23 Oct 2017 07:51
Last Modified:
23 Oct 2017 07:51
URI:
http://eprints.oxfordarchaeology.com/id/eprint/3324
Actions (login required)