Webb, Robin (2016) Archaeological Evaluation for the Felmersham to Carlton Water Main Replacement. [Client Report] (Unpublished)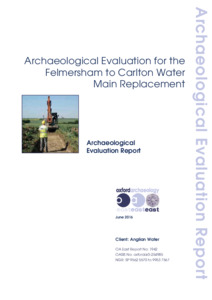 Preview
PDF




XBDFTC16_Report_1942_LR_edit.pdf


Available under License Creative Commons Attribution Share Alike.
Download (2MB) | Preview
Abstract
An archaeological evaluation of 22 trenches took place along the route of an Anglian Water main replacement scheme between Felmersham (SP 9953 5767) and Carlton (SP 9562 5570), Bedfordshire, covering an area of 32320m², with the trenches representing a 4% sample of the stripped easement (1320m²). The route of the pipeline runs on the south side of the River Ouse from Radwell Road in Felmersham to The Causeway in Carlton, running parallel to the road in the fields to either the south or north. Where the pipeline runs through the SAM at Chellington it will go through the road. The work took place between the 24th of May and the 8th of June 2016.
The evaluation uncovered limited archaeological remains at the Felmersham end of the pipeline, with only a single trench revealing any archaeological features. This trench (Trench 20) contained three ditches – two containing Romano-British pottery fragments and one 14th century.
The Carlton end of the pipeline was more productive, with a series of post-medieval boundaries running either parallel or perpendicular to the current field boundaries, and marking the development of the fields with the enclosure of the land and enlargement of fields.
The northern side of the SAM at Chellington (Trench 8) revealed medieval features that continued the extent of the DMV. These took the form of possible clay pits and ditches. The north-east end of the trench contained a large enclosure ditch containing 12-14th century pottery. Further to the north-east, evidence of ridge and furrow was revealed.
Item Type:
Client Report
Uncontrolled Keywords:
archaeological evaluation, bedfordshire, chellington, SAM, SM, scheduled monument, carlton, pipeline, iron age, medieval, DMV, romano-british, field system, field boundary, ridge and furrow
Subjects:
Geographical Areas > English Counties > Bedfordshire
Period > UK Periods > Iron Age 800 BC - 43 AD
Period > UK Periods > Medieval 1066 - 1540 AD
Period > UK Periods > Roman 43 - 410 AD
Divisions:
Oxford Archaeology East
Depositing User:

Chris Faine

Date Deposited:
23 Oct 2017 08:08
Last Modified:
23 Oct 2017 08:08
URI:
http://eprints.oxfordarchaeology.com/id/eprint/3325
Actions (login required)