Stocks-Morgan, Helen (2016) Multi-period remains from the Beaulieu Minerals Extraction Site (Site 1), Beaulieu, Chelmsford: PXA and UPD. [Client Report] (Unpublished)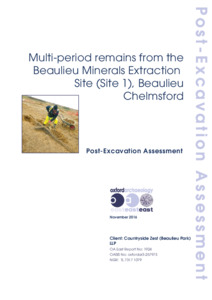 Preview
PDF




XEXBEP14_Report_1924_HR.pdf


Available under License Creative Commons Attribution Share Alike.
Download (17MB) | Preview
Abstract
Oxford Archaeology East carried out an open area excavation within the Beaulieu Minerals Extraction Site (Site 1), Beaulieu, Chelmsford ahead of the winning of sand and gravels as part of the Beaulieu Minerals Extraction scheme (Planning Ref. ESS/21/12/CHL). The works were carried out between the 23/9/15 and 4/02/16 and revealed a sequence of archaeological deposits spanning the Early Bronze Age to post-medieval periods.
Evidence for prehistoric activity included three Early Bronze Age pits in Areas 1B and 1C that may have been the remnants of cremations, although this was not conclusive and they may have represented domestic activity. An Early Iron Age post-built structure interpreted as a possible grain store was recorded in Area 1B. During the Middle Iron Age an unenclosed settlement was established in Area 1A that consisted of a roundhouse, a post-built structure and two ovens, a possible stock enclosure and numerous pits and postholes. Subsequently a Late Iron Age roundhouse within a sub-rectangular enclosure were set out in this area. The Early Roman period was represented by rectangular structures with associated cobbled surfaces and a small oven in Area 1C and a trackway to the north-east, in Area 1B.
Two areas of 12th to 14th century occupation were identified in Areas 1A and 1C. In Area 1C this comprised a rectangular enclosure encompassing a rectangular building. In the north-east of Area 1A, a small building was recorded in association with intercutting cess pits and a hollow filled by midden material.
By the transitional medieval period several brick filled gullies had been laid out. In the main these comprised gullies backfilled with broken brick fragments that followed the alignments of pre-existing medieval boundary ditches. These probably formed the foundations for creating visible barriers within the deer park landscape. A smaller number of more regularly constructed, brick-filled features possibly represented the foundations for small buildings.
Three post medieval ring ditches spaced across the excavation were most likely tree stands within a formal or managed garden.
Item Type:
Client Report
Uncontrolled Keywords:
archaeological excavation, essex, chelmsford, beaulieu park, bronze age, possible cremation, iron age, middle iron age, roman, early roman, medieval, tudor, post-medieval, deer park, formal gardens, ring ditch, pit, cess pit, midden, field system, structure, round house, roundhouse, grain store, four port structure, pottery, worked flint, lithic, CBM, settlement
Subjects:
Geographical Areas > English Counties > Essex
Period > UK Periods > Bronze Age 2500 - 700 BC
Period > UK Periods > Iron Age 800 BC - 43 AD > Early Iron Age 800 - 400 BC
Period > UK Periods > Iron Age 800 BC - 43 AD
Period > UK Periods > Iron Age 800 BC - 43 AD > Late Iron Age 100 BC - 43 AD
Period > UK Periods > Medieval 1066 - 1540 AD
Period > UK Periods > Iron Age 800 BC - 43 AD > Middle Iron Age 400 - 100 BC
Period > UK Periods > Post Medieval 1540 - 1901 AD
Period > UK Periods > Roman 43 - 410 AD
Divisions:
Oxford Archaeology East
Depositing User:

Chris Faine

Date Deposited:
23 Oct 2017 10:06
Last Modified:
23 Oct 2017 10:06
URI:
http://eprints.oxfordarchaeology.com/id/eprint/3329
Actions (login required)