Blackbourn, Kathryn (2017) Late Iron Age to Early Roman Settlement at Stratton Farm to Newspring Farm, Biggleswade. [Client Report] (Unpublished)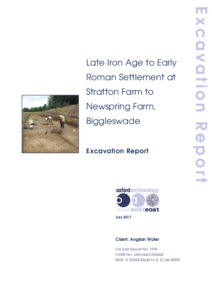 Preview
PDF




Report 1959_LR.pdf


Available under License Creative Commons Attribution Share Alike.
Download (2MB) | Preview
Abstract
From the 2nd of May to the 30th of June 2016 Oxford Archaeology East undertook an excavation on land from Stratton Farm to Newspring Farm, Biggleswade, Bedfordshire (TL 20534 43643 to TL 21146 40987). A watching brief was also conducted to the north of Edworth Road during November 2016.
A total of five areas were excavated across the site along the proposed pipeline route that ranged in size from 5m to 10m wide and 40m to 180m long. A total of 2396 sherds (weighing 23.85kg) of Late Iron Age and Early Roman pottery was recovered from site as well as post-medieval pottery. Area 1 was located in an area of cropmarks (HER 16157) which included evidence for a trackway. The excavation revealed ditches and pits, including the trackway ditches with a north-east to south-west alignment and was securely dated to the Late Iron Age and Early Roman period. A single cremation was also uncovered in this area although a secure date was not obtained.
The ditches in Area 1 were on a varying alignment to those in Areas 2, 3 and 4. A complex settlement was recorded by cropmarks (HER 16823) immediately south-east of Area 3 and extending into the area. Some of the large enclosures were identified within the excavation although further features comprising ditches, structures and pits were also uncovered. The cropmarks did not show the settlement extending into Area 2 however the excavation identified a single structure, ditches and a large watering hole all thought to be part of this same settlement. The features identified in Area 3 comprised a number of enclosures and structures possibly of both domestic and agricultural use containing Late Iron Age to Early Roman pottery. The majority of features originated in the Late Iron Age with some of the large ditches containing Early Roman pottery solely in their upper fills indicating an element of disuse at some point during the 1st century AD.
According to the HER data this recorded settlement was not expected to continue westwards into Area 4 where a separate settlement had been recorded (HER 16824). A cluster of Late Iron Age to Early Roman features were however identified at the north-east end of this area, on the same alignment as those seen in Area 3 suggesting a continuation of this settlement. A cobbled surface was also identified potentially having an agricultural function. The Late Iron Age to Early Roman settlement clearly didn't continue into Area 5 with a decline of features dating to this period and an increase in post-medieval furrows and ditches which were also seen truncating earlier features in Areas 2 to 4.
Item Type:
Client Report
Uncontrolled Keywords:
archaeological excavation, bedfordshire, biggleswade, iron age, roman, early roman, trackway, structure, cremation, pottery, cobbled surface, furrow, ridge and furrow, cropmark, filed system, settlement
Subjects:
Geographical Areas > English Counties > Bedfordshire
Period > UK Periods > Iron Age 800 BC - 43 AD
Period > UK Periods > Post Medieval 1540 - 1901 AD
Period > UK Periods > Roman 43 - 410 AD
Divisions:
Oxford Archaeology East
Depositing User:

Chris Faine

Date Deposited:
23 Oct 2017 10:44
Last Modified:
23 Oct 2017 10:44
URI:
http://eprints.oxfordarchaeology.com/id/eprint/3330
Actions (login required)