Champness, Carl (2007) Lion Business Park, Near Gravesend, Kent. Project Report. Oxford Archaeological Unit Ltd. (Unpublished)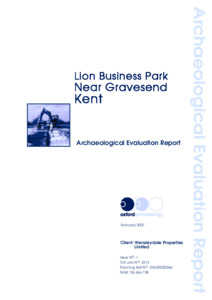 Preview
PDF




GRLION06_Eval.pdfA.pdf


Download (1MB) | Preview
Abstract
In November 2006 Oxford Archaeology (OA) carried out a trenched evaluation at Denton Marshes, Gravesend, Kent. The investigation was commissioned by Ardent Consulting Engineers Limited in advance of the development of the site as a business park. This work forms the second part of a two stage evaluation strategy,
The first stage, carried out by OA in July 2006, consisted of a geoarchaeological assessment of existing geotechnical records and previous archaeological work within the area, followed by a purposive borehole survey. The primary objective of the assessment was the creation of a sub surface deposit model in order to characterise the patterns of sedimentation across the site, retrieve samples at depth suitable for further work, and ultimately to predict areas of higher archaeological potential to be targeted by open trenching (OA 2006b).
The second stage comprised the excavation of ten shallow trenches across the site in order to assess the potential of the upper alluvial deposits. Romano-British activity previously identified within these deposits in the
immediate vicinity was not found to extend into the site area. A laterally extensive organic clay deposit, however, was found to occur at similar elevations which may represent a period of dryer and more stable conditions during the Roman and post-Roman periods.
Five deep test pits excavated through the lower alluvial sequence revealed an area of late Neolithic/early Bronze Age activity associated with flint knapping and hearth remains near the edge of the gravel terrace sealed at
the interface between Pleistocene sand and Holocene peat. Evidence for prehistoric activity in similar topographic and stratigraphic locations is increasingly being identified within the Lower Thames catchment. It is
likely such areas would have been attractive to local prehistoric communities providing access to the rich resources of the floodplain environments. However, the recovery of beaker pottery and large quantities of burnt flint from such a small sample, may suggest more
extensive or long-term activity.
The depth of overlying estuarine sediments across the site suggests that a small open trenched excavation of the localised peat sequence is achievable to the levels at which late Neolithic/early Bronze Age
archaeology was identified. Samples from the sequence are also available for further palaeoenvironmental work from the purposive boreholes.
Actions (login required)