Clarke, Graeme (2017) Land off Cockering Road, New Thanington, Canterbury, Kent. [Client Report] (Unpublished)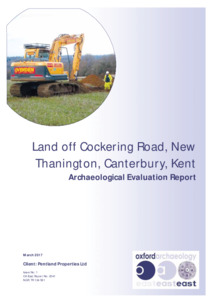 Preview
PDF




Report 2041_LR.pdf


Available under License Creative Commons Attribution Share Alike.
Download (5MB) | Preview
Abstract
Between 9th and 27th January 2017 Oxford Archaeology East (OA East) carried out a trenched evaluation at Land off Cockering Road, New Thanington, Canterbury, Kent (TR 134 561). This work was commissioned by Pentland Properties Ltd. The evaluation comprised the excavation of 246 trenches that primarily targeted geophysical survey results, but also tested 'blank' areas. An archaeological desk-based assessment of the site was carried out by CgMs in 2013 (Hawkins 2013). Although over two-thirds of the trenches contained no archaeological features or deposits, two areas of significant later prehistoric activity were identified.
One of these areas was found along the northern edge of the plateau extending across Field B to the western edge of Field C. The presence of archaeological remains focused in this area had previously been suggested by the results of a geophysical survey. Ditches on various alignments were revealed that probably belong to a network of fields or enclosures of Middle Bronze Age origin. A total of six pits were also identified in this area that contained assemblages of later prehistoric pottery and worked flint spanning the Early Bronze Age to Middle Iron Age periods. One Middle Iron Age pit contained substantial quantities of pottery, burnt flint and daub, perhaps indicating that industrial or craft processes were being undertaken in the area during this period.
A second smaller area of prehistoric remains was also revealed in the north-eastern corner of the site (Field F). Two further Middle Bronze Age ditches were uncovered here that yielded further assemblages of prehistoric pottery, worked and burnt flint.
In Field B, a ditched boundary was revealed in a trench immediately to the south of Cockering Farm (Cockering Manor) that contained locally-produced medieval pottery sherds dated to the 12th-13th centuries. Trenching also identified ditches of post-medieval/modern date that respect post-medieval field boundaries, with many containing brick and tile fragments.
Many trenches on the sloping east-facing ground in the eastern part of the site (Fields C, D, F, H and I) contained the remains of linear post hole alignments, with many containing modern brick and tile fragments. These post holes were associated with recent activity associated with hop growing.
Preservation of environmental remains from across the site was poor, with bulk samples producing only a background scatter of charred grain. The lack of animal bone is probably due to the acidic nature of the soil.
Item Type:
Client Report
Uncontrolled Keywords:
archaeological evaluation, kent, new thanington, camterbury, prehistoric, bronze age, iron age, field, field system, enclosure, pottery, burnt flint, early bronze age, middle iron age, medieval, 12th century, 14th century, modern, hop growing
Subjects:
Geographical Areas > English Counties > Kent
Period > UK Periods > Bronze Age 2500 - 700 BC
Period > UK Periods > Bronze Age 2500 - 700 BC > Early Bronze Age 2500 - 1500 BC
Period > UK Periods > Iron Age 800 BC - 43 AD
Period > UK Periods > Medieval 1066 - 1540 AD
Period > UK Periods > Bronze Age 2500 - 700 BC > Middle Bronze Age 1600 - 1,000 BC
Period > UK Periods > Iron Age 800 BC - 43 AD > Middle Iron Age 400 - 100 BC
Period > UK Periods > Modern 1901 - present
Period > UK Periods > Post Medieval 1540 - 1901 AD
Divisions:
Oxford Archaeology East
Depositing User:

Chris Faine

Date Deposited:
24 Oct 2017 09:11
Last Modified:
24 Oct 2017 09:11
URI:
http://eprints.oxfordarchaeology.com/id/eprint/3343
Actions (login required)