Stocks-Morgan, Helen (2016) Iron Age, Roman and Post-Medieval Remains at Site 8, Beaulieu, Chelmsford. [Client Report] (Unpublished)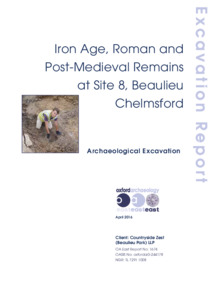 Preview
PDF




XEXBEP14PX_Report_1674_LR.pdf


Available under License Creative Commons Attribution Share Alike.
Download (4MB) | Preview
Abstract
An archaeological excavation was carried out within Zone E at Beaulieu, Chelmsford (TL 7291 1008). The fieldwork took place between the 19th July and 22nd September 2014.
Two separate areas totalling 0.337ha and 0.575ha (areas E1 and E2) encountered part of a Late Bronze Age open settlement, comprising up to seven four poster structures and other associated occupational features. One further area (E2) revealed a single undated feature.
The main excavation area (Site 8) and the three adjacent swale trenches (E4, E5, E6), which encompassed an area of 1.875ha, contained multi period remains. The earliest occupation on this site consisted of a small nucleated later Iron Age settlement, comprising a roundhouse, enclosure ditch, occupation features and two cremation burials.
A larger sub-rectangular enclosed settlement was subsequently established in the Late Iron Age/Early Roman period. Internal settlement features included a roundhouse, midden deposits and associated pits and postholes. A small, enclosed cemetery was established at this time to the north-east of the enclosure.
In the Early Roman period the enclosure was remodelled and a new roundhouse was constructed in the eastern part of the enclosure. The western part of the enclosure contained a large number of pits and postholes, with evidence for spelt crop processing. This nucleated settlement went out of use in the 2nd century and the land was given over to small fields on a north-east to south-west alignment shortly afterwards.
The next phase of occupation dates to the 17th century when a series of thirty-six pits were laid out in rows east to west. These pits were filled with brick rubble and may be part of a formal garden or large temporary structure. A brick wall dating to this period lay in the north-western part of the site. The site then reverted to agricultural land with several field boundaries present.
Item Type:
Client Report
Uncontrolled Keywords:
archaeological excavation, essex, chelmsford, beaulieu park, bronze age, late bronze age, iron age, late iron age, roman, post-medieval, LBA, LIA, ERB, structure, four post structure, enclosure, enclosed settlement, settlement, cremation, cremation cemetery, urn, urned cremation, cremated bone, HSR, human skeletal remains, crop processing, temporary structure, brick pad, formal garden, beam slot, pottery, quern, swale
Subjects:
Geographical Areas > English Counties > Essex
Period > UK Periods > Bronze Age 2500 - 700 BC
Period > UK Periods > Iron Age 800 BC - 43 AD
Period > UK Periods > Bronze Age 2500 - 700 BC > Late Bronze Age 1000 - 700 BC
Period > UK Periods > Iron Age 800 BC - 43 AD > Late Iron Age 100 BC - 43 AD
Period > UK Periods > Post Medieval 1540 - 1901 AD
Period > UK Periods > Roman 43 - 410 AD
Divisions:
Oxford Archaeology East
Depositing User:

Chris Faine

Date Deposited:
26 Oct 2017 08:39
Last Modified:
26 Oct 2017 08:39
URI:
http://eprints.oxfordarchaeology.com/id/eprint/3345
Actions (login required)