Blackbourn, Kathryn (2017) Roman Settlement and Malting Industry at Stallingborough Interchange. [Client Report] (Unpublished)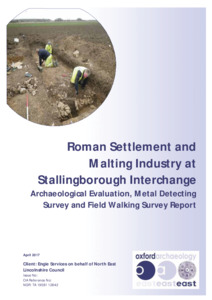 Preview
PDF




XLISTA17_report_LoRes.pdf


Available under License Creative Commons Attribution Share Alike.
Download (3MB) | Preview
Abstract
From the 13th to the 17th of March 2017 Oxford Archaeology East undertook an evaluation at land at Stallingborough Interchange, North East Lincolnshire (TA 19581 12842).
A geophysical survey had taken place at the site (WYAS 2016) and revealed evidence for an extensive settlement of an unknown date at the western side of the field with outlying probable/possible archaeological features to the east and south. A metal detecting survey and field walking survey took place prior to trial trenching. The metal detecting survey covered an area of 1.5 hectares and only one coin (dating to 269-274 AD) was recovered. The field walking survey covered an area of 4 hectares and Roman pottery (73 sherds), post-Roman pottery (5 sherds) and ceramic building material (27 fragments) was recovered with the main concentration of Roman pottery focused on Trench 4.
A total of nine trenches were excavated ranging in size from 5m to 14m in length and 1.80m wide. All of the trenches bar Trenches 6 and 9 contained archaeological finds and features. Trenches 1 to 5 were located over the main area of geophysical anomalies and upon excavation were found to contain a series of large ditches, stone walls, post-holes and a possible oven or kiln, all dating to the Roman period.
Trench 1 contained evidence for the northern and southern walls (47 and 50) of an east to west aligned building (Structure 1). Structure 1 measured 4.6m wide externally (3m internally) and the walls themselves measured 0.8m wide with two to three courses of the wall surviving. Only a small amount of pottery was recovered from this trench which makes dating the building difficult, eight fragments of wall plaster, some of which were painted with red ochre, were recovered from this trench indicative of a high status building. Further evidence for structures (Structure 2), probably with an agricultural use, were identified in Trench 3.
Ditches were the most prominent features in the trenches, none of them were seen in their entirety but measured at least 1 to 2.2m wide and 0.7 to 0.95m deep with steep to near vertical edges and concave bases (where visible). These ditches were largely aligned east to west or north-east to south-west: the pottery recovered from their fills spanned the Roman period making dating imprecise but suggesting a late Roman date in general. Part of a kiln or oven was identified in Trench 2, indicative of industrial practices taking place within the main site.
Trenches 7 and 8 lay to the east of the main settlement area, targeted on fainter geophysical anomalies, and contained ditches and post-holes. An unabraded assemblage of pottery was recovered from ditch 25 in Trench 7, dated to the 2nd to 3rd centuries AD. A single wall tile (of high status) was recovered from ditch 41 in Trench 8. The environmental evidence from these two trenches recovered an exceptional quantity of charred spelt and emmer wheat indicative of malting having taken place on site, probably within the immediate vicinity of the trench. A large quantity of ceramic building material was identified within the area surrounding Trench 7 and may indicate the presence of another structure, perhaps related to the malting process.
The pottery assemblage recovered from the site is small (but no so in relation to the size of the trenches and number of interventions) and is largely comprised of locally produced coarse wares, including forms such as jars and bowls. A few sherds of samian and other local fine wares were present but there was a distinct lack of specialist wares in the assemblage.
Stallingborough Interchange adds to a growing corpus of Roman sites in this part of North and North East Lincolnshire. Only a small part of the site was excavated yet revealed the potential for a large stone walled building with further outlying buildings alongside industrial activity including an extensive malting industry. Precise dating of the site is problematic but at this stage unnecessary, with only a small assemblage of pottery being recovered spanning the entire Roman period. The assemblage does show a potential spike in activity during the 2nd to 3rd centuries however. The stone building is evidently of high status however its function is uncertain. The location of the site within close proximity to a number of others which show evidence for activities such as crop processing, dairy, livestock management and pottery production may suggest that the site at Stallingborough Interchange acted as a possible estate centre.
Item Type:
Client Report
Additional Information:
archaeological evaluation, north-east lincolnshire, stallingborough, geophysical survey, metal detecting survey, field walking, roman, estate centre, oven, kiln, pottery, field system, ditch, enclosure, boundary, emmer wheat, spelt, structure, stone structure, wall, malting
Subjects:
Geographical Areas > English Counties > North East Lincolnshire
Period > UK Periods > Roman 43 - 410 AD
Divisions:
Oxford Archaeology East
Depositing User:

Chris Faine

Date Deposited:
26 Oct 2017 09:19
Last Modified:
26 Oct 2017 09:19
URI:
http://eprints.oxfordarchaeology.com/id/eprint/3346
Actions (login required)