Greef, Andrew (2016) 45-86 Eastfield, East Chesterton, Cambridge. [Client Report] (Unpublished)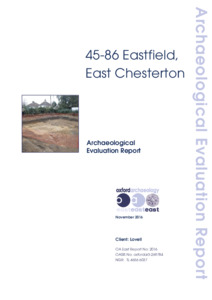 Preview
PDF




CAMEFC16_report_2016_LR_.pdf


Available under License Creative Commons Attribution Share Alike.
Download (2MB) | Preview
Abstract
Between 31st October and 23rd November 2016 Oxford Archaeology East conducted a post-demolition trial trench evaluation at Eastfield, East Chesterton, Cambridge (TL 4656 6037). Six trenches were excavated across the site, all revealing archaeological features. Trenches 2-6 contained a series of prehistoric ditches, gullies, pits and postholes relating to settlement activity, with a dense complex of inter-cutting features recorded in Trench 3 and the western half of Trench 2. Pottery recovered from these features dated from the Early to Late Iron Age and was associated with a well preserved assemblage of faunal remains dominated by cattle and pig. Other artefacts recovered included a small group of residual Late Neolithic/Early Bronze Age worked flints, fragments of fired clay and burnt stone.
Trench 1 lay to the south of the main phase 1 development area, and was in a high priority building zone. The trenching here led straight into mitigation, with a small area of excavation centred upon a medieval metalled surface, possibly a yard area or track associated with the known medieval moated site to the south.
Archaeological preservation across the site was higher than anticipated, with features being only partially truncated beneath the footings of the former 1930s properties. Subsoil survival varied, but in the rear gardens to the west and north of the site, on slightly higher ground, undistributed subsoil were up to 0.45m thick, ensuring a high level of feature preservation.
Item Type:
Client Report
Uncontrolled Keywords:
archaeological evaluation, cambridgeshire, cambridge, chesterton, phase 1, phase one, interim report, iron age, early iron age, middle iron age, late iron age, pottery, neolithic flint, medieval, metalled surface
Subjects:
Geographical Areas > English Counties > Cambridgeshire
Period > UK Periods > Iron Age 800 BC - 43 AD > Early Iron Age 800 - 400 BC
Period > UK Periods > Iron Age 800 BC - 43 AD
Period > UK Periods > Iron Age 800 BC - 43 AD > Late Iron Age 100 BC - 43 AD
Period > UK Periods > Medieval 1066 - 1540 AD
Period > UK Periods > Iron Age 800 BC - 43 AD > Middle Iron Age 400 - 100 BC
Period > UK Periods > Modern 1901 - present
Period > UK Periods > Neolithic 4000 - 2200 BC
Divisions:
Oxford Archaeology East
Depositing User:

Chris Faine

Date Deposited:
03 Nov 2017 11:15
Last Modified:
03 Nov 2017 11:15
URI:
http://eprints.oxfordarchaeology.com/id/eprint/3358
Actions (login required)