Blackbourn, Kathryn (2017) Late Roman Settlement at Old School Lane, Upware, Cambridgeshire. [Client Report] (Unpublished)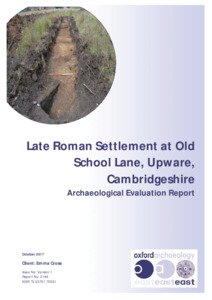 Preview
PDF




Report 2146_LR.pdf


Available under License Creative Commons Attribution Share Alike.
Download (1MB) | Preview
Abstract
From the 13th to 15th of September 2017 Oxford Archaeology East undertook an archaeological evaluation at Old School Lane, Upware, Cambridgeshire (centred TL 5375 7005).
A total of six trenches measuring 30m in length were excavated, revealing an area of Late Roman settlement concentrated in the northern half of the site. The exposed features comprised a relatively dense network of ditches, gullies and pits forming parts of several rectilinear enclosures. Artefacts recovered from site included Roman pottery primarily dating between 250-400 AD, animal bone, ceramic building material, fragments of quern, stone, shell, three late Roman coins and a lead weight. The assemblage of ceramic building material suggests the presence of structures, and the stone observed in the topsoil may imply stone footings or stone packed postholes.
The site was located adjacent to the River Cam, and would have occupied the end of a dryland peninsula during the Roman period. The relatively high frequency of non-local wares from Oxfordshire and Hertfordshire in the ceramic assemblage suggests the occupants had access to trade networks outside of the immediate local area, probably as a consequence of trade along the river. More broadly, the location of the sites fits within a wider Roman settlement pattern in the Soham/Wicken area, with sites distributed along the edge of the River Cam.
Item Type:
Client Report
Uncontrolled Keywords:
archaeological evaluation, cambridgeshire, upware, wicken, roman, late roman, settlement, pottery, roman pottery, trade, quern, coin
Subjects:
Geographical Areas > English Counties > Cambridgeshire
Period > UK Periods > Roman 43 - 410 AD
Divisions:
Oxford Archaeology East
Depositing User:

Chris Faine

Date Deposited:
06 Nov 2017 08:58
Last Modified:
06 Nov 2017 08:58
URI:
http://eprints.oxfordarchaeology.com/id/eprint/3362
Actions (login required)