Stocks-Morgan, Helen (2017) Multi-period remains from Zone E, Beaulieu, Chelmsford, Essex: PXA and UPD. [Client Report] (Unpublished)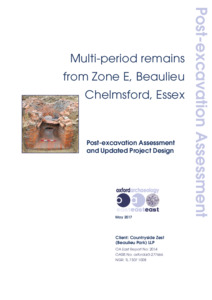 Preview
PDF




XEXBEP14_Zone_E_Report_2014_LR.pdf


Available under License Creative Commons Attribution Share Alike.
Download (3MB) | Preview
Abstract
Oxford Archaeology East carried out an open area excavation within a proposed open space next to Zone E of the new neighbourhood, at Beaulieu, Chelmsford. The works were carried out between the 22/8/16 and 15/10/16.
The earliest phase of activity recorded dates to the Late Iron Age and comprises an enclosure ditch, roundhouse ring-gully and posthole, thought to be the eastern extent of an enclosed settlement previously recorded to the west (Site 8).
The second phase of activity is represented by a lime kiln that dates to the transitional medieval (Tudor) period. This kiln is likely to have been used to make the lime mortar during the construction of Beaulieu Palace, located 0.25km to the east.
Extending across the entire site was a series of pits laid out in rows aligned roughly east to west. The pits, of which a large proportion (c. 38%) were subsequently replaced by brick pads, all date to the post-medieval period (17th/18th century). The pads were constructed using broken Tudor bricks similar to those in the lime kiln and found near the brick clamps identified on Site 3, along with roof tile and occasional architectural fragments; indicative of demolition material Their function remains unclear but possible interpretations might be that they formed part of a formal garden or the foundations of a viewing platform.
Item Type:
Client Report
Uncontrolled Keywords:
archaeological excavation, essex, chelmsford, beaulieu park, iron age, medieval, post-medieval, post medieval, round house, structure, pottery, cbm, ceramic building material, limekiln, tudor, stuart, transitional, lime mortar, beaulieu palace, brick pad, brick clamp, enclosure, architectural fragment
Subjects:
Geographical Areas > English Counties > Essex
Period > UK Periods > Iron Age 800 BC - 43 AD
Period > UK Periods > Medieval 1066 - 1540 AD
Period > UK Periods > Post Medieval 1540 - 1901 AD
Divisions:
Oxford Archaeology East
Depositing User:

Chris Faine

Date Deposited:
10 Nov 2017 14:35
Last Modified:
10 Nov 2017 14:35
URI:
http://eprints.oxfordarchaeology.com/id/eprint/3366
Actions (login required)