Anker, Katrina The former RAF radar site Norwich Road Watton Norfolk. [Client Report] (Unpublished)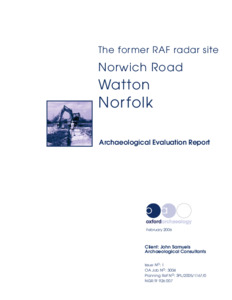 Preview
PDF




42674WAT.pdf


Download (4MB) | Preview
Abstract
In November and December 2005, Oxford Archaeology (OA) carried out a
field evaluation at the former RAF radar site, Watton, Norfolk (NGR: TF
926 007), on behalf of John Samuels Archaeological Consultants. The
evaluation revealed limited archaeological remains. The discovery of a
Bronze Age round barrow with a central cremation urn in a trench to the
south of the site, together with a possible associated inhumation (of
uncertain date, possibly pre-historic based on very limited pottery
evidence), may give a context for the hoard of prehistoric socketed axes
discovered on the site in 1958. In addition to the barrow and burial
remains, a Bronze Age ditch containing fragments of a bucket urn was
found in Trench 16 (towards the centre of the site). A northern
continuation of this ditch, or at least its alignment, was suggested by
features (a ditch and gully) in other trenches. A few undated features were
recorded, some cut by tree-throw holes. A number of natural geological
features were also identified. Natural subsoil appears to cover most of the
site, where not cut away by building activities when the RAF occupied the
site. The northern part of the site has seen more intrusion by building
works than the southern part and a number of services also cross the site.
Post-medieval plough furrows were also observed at the south end of the
site and a pillbox of W.W.II date was recorded at the eastern perimeter.
Actions (login required)