Hiller, J (2007) Land at Wilburton Cambridgeshire (Mereham New Community). Project Report. Oxford Archaeology. (Submitted)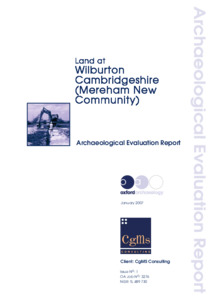 Preview
PDF




Wilberton_Cambs_Eval__Phase_1_Report_FINAL22_Jan.pdf


Download (3MB) | Preview
Abstract
In July 2006, Oxford Archaeology (OA) carried out a field evaluation of land at Wilburton, Cambridgeshire (NGR TL 489 730), on behalf of CgMs Consulting . The evaluation trenches were targeted at anomalies revealed by geophysical survey and the whole exercise formed part of a phased programme of evaluation of the site. The evaluation revealed the southern part of a middle Iron Age farmstead at the west of the development area. The site appears to have contracted or gone out of use, based on ceramic evidence, before being re-used in the later Roman period. Elsewhere on the site, post-medieval quarries,
probably opened to extract the underlying sand were noted. Ridge and furrow agriculture is visible through geophysical survey plots across much of the site, although no ridge and furrow was observed during the evaluation. Of note was a small assemblage of late Neolithic and Bronze Age flint artefacts, all of which were found in association with later
pottery. The effects of hillwash/colluvium formation appear to have moved these artefacts from their original location, the suggestion being that there may be an earlier prehistoric site in the vicinity, probably on the higher ground of the east-west ridge extending across the site.
Actions (login required)