Moan, Patrick (2016) Romano-British settlement and Funerary Activity at East View Close, Radwinter, Essex: PXA and UPD. Project Report. Oxford Archaeology Ltd, Bar Hill, Cambridgeshire. (Unpublished)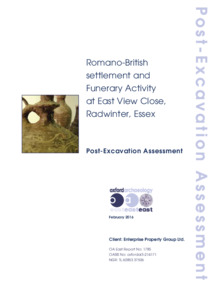 Preview
PDF




XEXRAD15_PXA_report_1785_LR.pdf


Available under License Creative Commons Attribution Share Alike.
Download (2MB) | Preview
Abstract
Between April and June 2015, Oxford Archaeology East carried out an open area excavation on land at East View Close, Radwinter, Essex (TL 60853 37506). A total of 0.61ha was opened by machine, revealing part of an Early to Mid Romano-British settlement of relatively high status.
It is clear the main settlement focus was further to the north and probably west, outside of the excavation area. The excavation revealed numerous well preserved features including possible structures, small paddock-like enclosures and large pits backfilled with midden material.
A total of three high status cremations were located in the northern part of site. They were deposited with brooches, hair pins and one had a worked bone gaming piece located within the cremated bone deposit.
Along with these, thirteen inhumations were also excavated, one dating to the Iron Age period with the other 12 of Romano-British date. These burials were found across the site, respecting the alignment of the boundary ditches. Two were buried in coffins, whilst the rest appear to have been interred in linen shrouds. Very few finds were recovered from the burials, apart from a skeleton from which a glass bead was recovered and another that contained hobnails.
The finds assemblage recovered from site was of relatively high status, with numerous fragments of Gaulish Samian being recovered, along with other regional imported wares such as Nene Valley colour coated wares and Oxfordshire Red wares. Further to this, 53 coins were recovered by metal detector from across the site, the date range of this assemblage spanned the entire Roman period.
Item Type:
Monograph (Project Report)
Uncontrolled Keywords:
archaeological excavation, essex, uttlesford, radwinter, roman, pottery, samian, gaulish, mortaria, burial, inhumation, cremation, unurned, un urned, urned, coin, brooch, nene valley ware, coffin, shroud, bead, bone pin, settlement, boundary ditch, field system, paddock, midden, oxfordshire red ware
Subjects:
Geographical Areas > English Counties > Essex
Period > UK Periods > Iron Age 800 BC - 43 AD > Late Iron Age 100 BC - 43 AD
Period > UK Periods > Roman 43 - 410 AD
Divisions:
Oxford Archaeology East
Depositing User:

Chris Faine

Date Deposited:
27 Nov 2017 09:50
Last Modified:
27 Nov 2017 09:50
URI:
http://eprints.oxfordarchaeology.com/id/eprint/3400
Actions (login required)