Bush, Louise (2017) Watlington Quarry, Tottenhill Row, Norfolk. [Client Report] (Unpublished)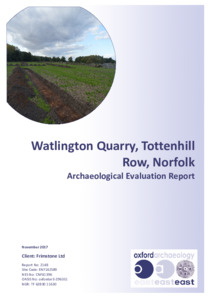 Preview
PDF




ENF142589 Report 2148_final_LR.pdf


Available under License Creative Commons Attribution Share Alike.
Download (8MB) | Preview
Abstract
Between the 4th and 11th of October 2017, Oxford Archaeology East (OA East) undertook an archaeological trial trench evaluation on land at Watlington Quarry, Tottenhill Row, Norfolk (TF 62830 11630). A total of 33 trenches were excavated across the proposed 5.7ha extraction site.
Six post-medieval field boundary ditches were identified extending across the area on at least two different alignments, along with two undated pits. Three of the ditches appear to have broadly followed the axis of the north-east to south-west aligned Watlington Road, which bounds the site to the south-east. A further two ditches in the northern part of the site were aligned east to west, parallel with extant field boundaries to both the north and south of the site. One (undated) ditch was on a different alignment from all of the others and may have been slightly earlier. The ditches, which do not correspond with any boundaries shown on late 19th to 20th century Ordnance Survey maps, may have been related to the fields of Watlington Hall located to the south-east, or perhaps its associated park, created in the 18th century.
A small pottery assemblage dating from the 18th to 19th centuries was recovered from some of the ditches, along with a collection of brick fragments which range in date from the 14th to 18th centuries.
Actions (login required)