Moan, Patrick (2017) Romano-British Roadside Settlement and Burial at East View Close, Radwinter, Essex. [Client Report] (Unpublished)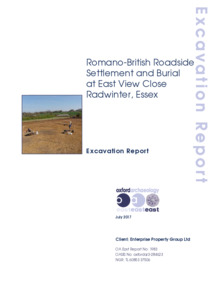 Preview
PDF




XEXRAD15_Grey_Lit_HR.pdf


Available under License Creative Commons Attribution Share Alike.
Download (9MB) | Preview
Abstract
Between April and June 2015 Oxford Archaeology East (OA East) carried out an open area excavation on land at East View Close, Radwinter, Essex (TL 60853 37506). A total of 0.61ha was stripped by machine, revealing evidence of prehistoric activity in the form of a relatively large assemblage of residual flint dating from the Mesolithic through to the Bronze Age periods along with an Iron Age pit and inhumation burial. The majority of archaeology related to part of a Romano-British field system, peripheral settlement activity and burials dating to the Early and Middle Roman periods. Despite limited definitive evidence for occupation, such as structures, the finds assemblages and other features indicate that this site was part of a large roadside settlement of moderate status that spanned the Romano-British period.
A series of Early Roman ditches delineated several plots of land possibly aligned with a road or droveway leading to the Roman settlement at Wixoe to the north-east, a route which is suggested by previous work directly south-west of the site where a pair of parallel ditches was recorded. The field systems combined with zooarchaeological remains are indicative of a pastoral farming regime, while evidence from the environmental remains limited arable agriculture was also undertaken. The nature of the Middle Roman activity indicates a nucleation or consolidation of settlement, as the Early Roman enclosures were no longer being maintained with pits and other activity being concentrated in the northern half of the site. Limited evidence for Late Roman or post-Roman activity was found comprising sherds of Late Roman and possibly Early Saxon pottery found within the upper fills of some features.
Twelve inhumation and three cremation burials were excavated on the site, the majority of which dated to the Early Roman period, apart from one Iron Age inhumation and four which were Middle Roman in date. On the whole these appear to represent small family groups within specific plots.
A moderately large assemblage of Roman pottery (over 85kg) was recovered, alongside 52 coins spanning the Late Iron Age and Roman periods, some fragments of glass, brooches, hair pins, iron nails and worked stone (mostly quern stones). The majority of the pottery assemblage is of Early and Middle Roman date (AD43 to AD 300) and largely consists of locally produced utilitarian grey wares. Domestic and foreign traded ceramics were also found on the site and used fairly routinely by the mid 2nd century AD, including Gaulish samian vessels. The assemblage shows the site had strong economic links with nearby settlements such as Great Chesterford and Colchester. Pottery may also have been produced within the settlement, as a moderate assemblage of kiln furniture and two pottery waster sherds were recovered from secondary contexts
Overall, this excavation and the adjacent geophysics has added greatly to the understanding of the origin and development of this Roman roadside settlement and its associated road network. The artefactual evidence has also shown good trade links with the local Small Towns, such as Great Chesterford and Wixoe, and that the settlement, although not rich, flourished during the Early and Middle Romano-British period.
Item Type:
Client Report
Uncontrolled Keywords:
archaeological excavation, essix, uttlesford, radwinter, roman, settlement, pottery, samian ware, cremation, urned, unurned, un-urned, inhumation, burial, trepanation, mortaria, field system, iron age, early roman, mid roman, nucleated settlement, lithics, worked flint, early neolithic, late mesolithic
Subjects:
Geographical Areas > English Counties > Essex
Period > UK Periods > Neolithic 4000 - 2200 BC > Early Neolithic 4000 - 3000 BC
Period > UK Periods > Iron Age 800 BC - 43 AD
Period > UK Periods > Iron Age 800 BC - 43 AD > Late Iron Age 100 BC - 43 AD
Period > UK Periods > Mesolithic 10,000 - 4,000 BC > Late Mesolithic 7000 - 4000 BC
Period > UK Periods > Mesolithic 10,000 - 4,000 BC
Period > UK Periods > Neolithic 4000 - 2200 BC
Period > UK Periods > Roman 43 - 410 AD
Divisions:
Oxford Archaeology East
Depositing User:

Chris Faine

Date Deposited:
01 Dec 2017 08:53
Last Modified:
01 Dec 2017 08:53
URI:
http://eprints.oxfordarchaeology.com/id/eprint/3405
Actions (login required)