Bush, Louise (2017) Land north-east of Street Farm, Saxmundham, Suffolk. [Client Report] (Unpublished)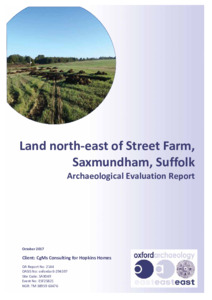 Preview
PDF




SAX049_Report 2144_final_LR.pdf


Available under License Creative Commons Attribution Share Alike.
Download (2MB) | Preview
Abstract
Between the 18th and 26th of September 2017, Oxford Archaeology East (OA East) undertook an archaeological trial trench evaluation on land north-east of Street Farm, Saxmundham, Suffolk (TM 38959 63476). A total of 21 trenches were excavated across the proposed development area.
The fieldwork has identified archaeological remains across the site. These remains are predominantly confined to the north and western part of the development area, on the lowest lying land, where the geology changes from clay to sand.
Of the 13 trenches containing archaeological features, eight also contained layers of colluvium. All the archaeological remains were cut through this colluvium.
Archaeological remains comprised of pits, postholes and ditches. Finds across the site were generally low, with several of the features excavated being devoid of datable material. The majority of the cut features identified are believed to date from the Iron Age period, with struck flint, pottery, fired clay and a complete loomweight being recovered from pits and ditches.
Finds collected from the surface of the colluvium indicate a long-term process of soil accumulation and incorporation of artefacts, particularly around that of Trench 1, with struck flint and pottery dating from the Neolithic through to the early post-medieval period. The presence of later finds in the colluvium, cut by Iron Age features, suggest a high level of soil movement, with layers of colluvium continuing to build up over time. It should also be highlighted that all of the later colluvial finds were recovered from its surface rather than from deeper within the deposits, suggesting some finds may have been incorporated from above through ploughing.
Perceived Anglo-Saxon remains were also identified on the site, however the absence of finds precludes definitive dating. Two sides of a rectangular posthole structure were recorded in Trench 7 and is tentatively interpreted as an Anglo-Saxon hall. Two gullies ran parallel with the structure to the immediate north and could potentially be associated.
Trenches situated across the southern half of the site revealed post-medieval field boundary ditches and a series of parallel ditches, which are most likely related to cultivation.
Overall, the trenching has confirmed the presence of preserved archaeological remains across the proposed development area, with the most significant being concentrated in the north and western half of the site. The identified remains date from the Iron Age and Anglo-Saxon periods, and are believed to relate to settlement activity uncovered during archaeological works on the adjacent site to the immediate west (SXM043; Clarke 2017).
Item Type:
Client Report
Uncontrolled Keywords:
archaeological evaluation, suffolk, saxmundham, iron age, pottery, loomweight, colluvium, neolithic, post-medieval, settlement, anglo-saxon, cultivation, field system
Subjects:
Geographical Areas > English Counties > Suffolk
Period > UK Periods > Early Medieval 410 - 1066 AD
Period > UK Periods > Iron Age 800 BC - 43 AD
Period > UK Periods > Neolithic 4000 - 2200 BC
Period > UK Periods > Post Medieval 1540 - 1901 AD
Divisions:
Oxford Archaeology East
Depositing User:

Chris Faine

Date Deposited:
01 Dec 2017 10:07
Last Modified:
01 Dec 2017 10:07
URI:
http://eprints.oxfordarchaeology.com/id/eprint/3411
Actions (login required)