Atkins, Robert and Munby, Julian (2016) Chisholm Trail, cycle and pedestrian route, Cambridge. [Client Report] (Unpublished)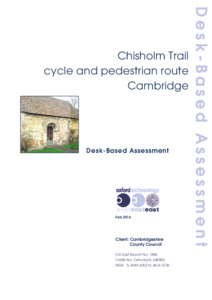 Preview
PDF




Report 1886_LR.pdf


Available under License Creative Commons Attribution Share Alike.
Download (9MB) | Preview
Abstract
In January 2016 Oxford Archaeology (East and South) undertook a Desk-Based Assessment and Heritage Impact Assessment to examine historical and archaeological resources relating to sites along the proposed Chisholm Trail (cycle and Pedestrian routeway), Cambridge (TL 4545 6052 to 4616 5726). The work was commissioned by Cambridgeshire County Council. The aim of this assessment was to determine the archaeological potential of the site and the possible impact of any future work on both any archaeological remains, the Historic Landscape and Heritage Assets.
The proposed route passes close to known archaeological sites recorded in the Cambridge Historic Environment Record (CHER). There were 12 records pre-dating the medieval period; two Palaeolithic, two Bronze Age, six Iron Age/Roman and two Saxon. One of these is likely to represent a Roman settlement located next to Coldhams Brook, directly opposite the former medieval Sturbridge hospital. The other records consisted of isolated artefacts, human remains or single, poorly dated features that have been recorded over the last 200 years and their significance is therefore uncertain. A new bridge across the River Cam may disturb deposits dating to the prehistoric and Roman periods.
The Chisholm Trail and its branch lines cross three medieval parishes running through part of Chesterton, skirting just into Fen Ditton, but primarily through St-Andrew-the-Less (Cambridge's eastern fields). The trail is mainly routed through former fields of the parish. The exception being the former Sturbridge leper hospital, whose former precinct it appears to cross to the east of the still standing mid 12th century St Mary Magdalene Chapel, which was attached to the hospital.
This is suggested from the 1725 map of Stourbridge Fair, which also appears to imply that the route of Coldhams Brook may have been doctored to form three sides of a sub-rectangular precinct. The chapel, hospital buildings and any burial grounds would have been located within this precinct. These are recorded as being demolished in the late 13th century. The Heritage Impact Assessment for the route suggests the impact of route on the hospital will, on the whole, be beneficial. Archaeologically, the routeway itself may disturb remains relating to the hospital and possibly a Roman site recorded by a nearby evaluation.
The fields of all three parishes within the proposed Chisholm Trail were not developed until the 19th and 20th centuries. The area of St Andrew-the-Less is of special interest. The building expansion after Enclosure (1807-11) was unusual as it resulted in population expansion of more than 50 times the national average between 1801 and 1841. This population increase continued into the late 19th century.
The parish was the main industrial area in Cambridge and had a high proportion of sub-standard domestic housing. The proposed Chisholm Trail runs through industrial areas, especially along the railway lines, next to a brick kiln works and also through the sites of notable historical events such as the sexual liaison points recorded in the nationally important trial of the Rev. Dr. Jephson.
Item Type:
Client Report
Uncontrolled Keywords:
desk-based assessment, cambridgeshire, cambridge, barnwell, leper chapel, medieval, post-medieval, stourbridge fair, Coldhams brook, stourbridge common, coldhams common, heritage impact assessment, cycle route
Subjects:
Geographical Areas > English Counties > Cambridgeshire
Period > UK Periods > Medieval 1066 - 1540 AD
Period > UK Periods > Post Medieval 1540 - 1901 AD
Period > UK Periods > Roman 43 - 410 AD
Divisions:
Oxford Archaeology East
Depositing User:

Chris Faine

Date Deposited:
01 Dec 2017 12:50
Last Modified:
01 Dec 2017 12:50
URI:
http://eprints.oxfordarchaeology.com/id/eprint/3412
Actions (login required)