Champness, Carl (2009) Northeye, Pevensey Levels, East Sussex, Geoarchaeological Assessment Report. Project Report. Oxford Archaeological Unit Ltd. (Unpublished)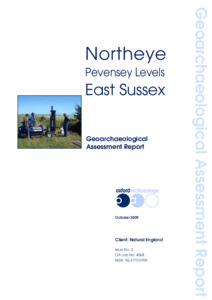 Preview
PDF




Northeye_Assessment_Report.pdfA.pdf


Download (2MB) | Preview
Abstract
Oxford Archaeology (OA) was commissioned by Natural England on behalf of Mr and Mrs Kemp, landowners of Northeye Scheduled Monument (S.M. MES93), to undertake a geoarchaeological assessment as part of their Higher Level Stewardship Agreement (AG 00246947). The assessment consisted of a field survey to record the sequence of deposits and recover samples for palaeoenvironmental assessment in the low-lying marsh area that surrounds the scheduled monument.
A transect of five boreholes and two auger holes were taken through the marsh sediments. The sequence of deposits are relatively consistent. Two main phases of rising sea level (marine transgression) and one phase of lower sea-level (regression) have been identified. The main period of
regression is characterised by the accumulation of peats and organic deposits that represent a mosaic of different wetland environments. These deposits are prehistoric in date and have been radiocarbon dated to between c 1670-1430 cal BC (Middle Bronze Age) to c 820-530 cal BC
(Early Iron Age).
Palaeoenvironmental assessment for pollen, waterlogged plant remains, and insects was undertaken for one representative sequence. The assessment identified good potential for preservation of organic remains below a depth of 1.40 metres (+1.05 m OD), associated with the accumulation of the peats. This sequence therefore has the potential to provide detailed information on vegetation and sea-level change from the late Mesolithic period onwards.
Previous studies have noted that early prehistoric utilisation of the Pevensey Levels is associated with episodes of marine regression. The organic deposits identified during this assessment therefore have the
potential to contain evidence of prehistoric activity in the form of artefacts, wooden trackways or platforms and boats. The organic deposits and any archaeological remains therein are vulnerable to both direct impacts through the digging of drainage ditches to depths greater than
1.40 m, or secondary impacts such as the lowering of the water-table.
The natural shallow embayments of the island were likely a significant factor in the growth of salt working in this area. The abandonment of the village was most likely partly due to a decline in the salt works. This was in part due to the declining economy and the spread of disease in the late
13th to 14th centuries. However these affects were probably significantly exacerbated at Northeye by the storms of the late 13th century which likely infilled most of the embayments which were used in salt production. The village never appeared to recover from these events and
was subsequently abandoned. Significant early salt working sites and other medieval features such as
jetties may be found around the edges of the Northeye Island. Such discoveries could help inform about the activities associated with the medieval village. Within the area immediately surrounding the bedrock island these deposits are less than 1 metre from the surface and would
therefore be vulnerable to direct impacts.
Actions (login required)