Ladd, Stuart (2017) Belton Stepshort Rising Main. [Client Report] (Unpublished)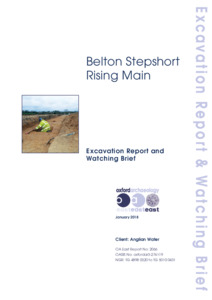 Preview
PDF




Report 2066_LR.pdf


Available under License Creative Commons Attribution Share Alike.
Download (10MB) | Preview
Abstract
In March and May 2017, Oxford Archaeology East undertook two excavations and a watching brief (Sites 1-3) along the Belton Stepshort to Great Yarmouth Pipeline for Anglian Water (TG 4898 0320 to TG 5010 0431).
Along the western part of the pipeline route, south of New Road, Belton, (Site 1) a number of archaeological and natural features were identified and excavated. Despite the abundance of previously recorded cropmarks in the area, only one pre-modern feature identified during the excavation corresponded to the cropmark evidence. This feature, a ditch, has been radiocarbon dated to the Middle Bronze Age, and produced Late Bronze Age/Early Iron Age pottery from its upper fill. Numerous pit or tree throw-like features and possible ditches were also excavated, most of which did not produce finds, or contained small quantities of residual material. However, a complete Beaker vessel was recovered from a pit located close to the cropmark of a ring ditch. This feature has been radiocarbon dated to the late third millennium cal BC, and a similar date was acquired on a dump of charcoal recovered from an adjacent feature, possibly the terminus of a ditch. Elsewhere, a small quantity of earlier Neolithic pottery and flintwork was recovered from a probable tree throw feature. Roman finds and a single Early Saxon sherd were also recovered as residual finds from modern boundary features.
A watching brief carried out along the pipeline route off of Gorleston Lane (Site 2) did not reveal any archaeological finds, deposits or features.
Work at the Magdalene Recreation Ground, Gorleston (Site 3) identified a single 19th century ditch, but no other archaeological remains were encountered. It was not possible to locate a series of large, probably post-medieval, earthwork banks which had been recorded on aerial photographs of this area taken in the mid twentieth century, and it seems likely that these earthworks have been destroyed by ploughing and subsequent landscaping of the recreation ground.
Item Type:
Client Report
Uncontrolled Keywords:
archaeological excavation, archaeological watching brief, norfolk, belton, prehistoric, late prehistoric, neolithic, bronze age, beaker, complete vessel, pottery, field system
Subjects:
Geographical Areas > English Counties > Norfolk
Period > UK Periods > Bronze Age 2500 - 700 BC
Period > UK Periods > Iron Age 800 BC - 43 AD
Period > UK Periods > Neolithic 4000 - 2200 BC
Divisions:
Oxford Archaeology East
Depositing User:

Chris Faine

Date Deposited:
17 Jan 2018 10:00
Last Modified:
17 Jan 2018 10:00
URI:
http://eprints.oxfordarchaeology.com/id/eprint/3461
Actions (login required)