Bashford, Robin St Clare's College Oxford. [Client Report] (Unpublished)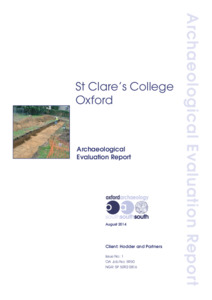 Preview
PDF




OXSCL14_Evaluation_Report.pdf


Download (7MB) | Preview
Abstract
In August 2014, Oxford Archaeology (OA) undertook a trial trench evaluation at St Clare's College, 121 Banbury Road, Oxford (SP 5094 0830). The evaluation comprised two trenches, the first of which revealed that significant truncation had occurred during the early 20th century construction of the building which currently fronts on to the Banbury Road. However, the second trench to the rear of the property revealed three east-west aligned linear features which are likely to represent the remnant of an 18th century ridge and furrow field system. The fills of these features primarily comprised re-deposited post-glacial loessic subsoil which overlies the second gravel terrace. Although this deposit was not observed in-situ, it seems likely that it was extant when these furrows began to silt up. The deposit which overlay the fills of the furrows may have represented a later ploughsoil which derived from the ploughing out of the ridges, tops of the furrows and presumably the loess through which the furrows were cut.
The ploughsoil and the fills of at least two of the furrows appeared to have been cut by narrow, rubble-filled linear features which are likely to represent rudimentary field drains, probably contemporary with the ploughsoil, which were installed to replace the redundant furrows.
A series of small late 19th-early 20th century pits of indeterminate function were seen to truncate the furrows, and almost certainly the ploughsoil. As the cartographic sources show the area around the site as enclosed fields until the late 19th century development at the northern end of the Banbury Road, it is possible that these relate to the construction of either the adjacent property to the north (constructed between 1878 and 1899), or 121 Banbury Road itself (constructed 1903). The scale bar in figure 2 is incorrect. It should be 20m, not 10m.
Actions (login required)