Witkin, Annsofie St Laurence's Church Appleton Oxfordshire. [Client Report] (Unpublished)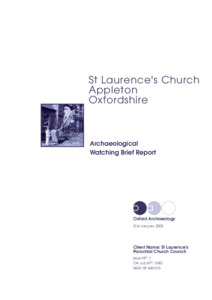 Preview
PDF




APPLAU02.pdf


Download (3MB) | Preview
Abstract
In July, August and September 2002 Oxford Archaeology (OA) carried out
an archaeological watching brief and a recording programme at the
church of St Laurence, Appleton, Oxfordshire (NGR SP 445 015). The
work was commissioned by McBains Cooper on behalf of the Parochial
Church Council in advance of the construction of a new extension on the
side of the church and installation of a new floor and underfloor heating.
The foundation walls of an earlier, smaller church were discovered within
the nave. The earlier church had a doorway in the western wall. The
church was extended eastwards in the late 12th or early 13th century and
some of the contemporary column bases reused the earlier wall as
foundation blocks. The western wall, beneath the later blocked arch also
had a doorway possibly leading to an earlier tower. Twenty-two earth-cut
graves were located within this area. Most were orientated west-east but
four were orientated north-south. Some graves in the western end may be
contemporary with the early church whereas some of the graves in the
eastern end are clearly post-medieval.
Four earth-cut graves and ten brick-lined vaults were present in the north
aisle. The earth-cut graves had been truncated by the widening of the aisle
in the 17th century or by the 18th- and 19th-century vaults. Five of the
vaults were flat-topped. The barrel-vaulting had been removed when the
floor was lowered in 1883. Inscriptions from memorial slabs indicated
that the individuals in the brick-lined vaults almost certainly all belong to
the Sellwood family.
Actions (login required)