Moan, Patrick (2018) Former Perkins Engines Site, Newark Road, Fengate, Peterborough. [Client Report] (Unpublished)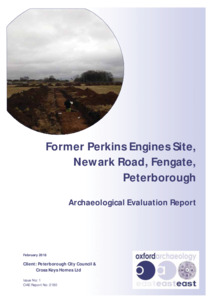 Preview
PDF




PETPES17_Report2180_LR_UPDATED.pdf


Available under License Creative Commons Attribution Share Alike.
Download (6MB) | Preview
Abstract
Between 16th and 23rd January 2018 Oxford Archaeology East (OAE) carried out a trenched evaluation on the former Perkins Engines Site, Newark Road, Fengate, Peterborough (TF 2138 0030; Fig. 1). The land that encompasses the proposed residential and commercial development was c.4.4 ha of scrubland extending to the east of the current Perkins Engines factory. A geophysical survey of the proposed development was carried out by Magnitude Surveys (Harris 2017) which found the area was heavily disturbed and showed no clear geophysical anomalies. Therefore, the evaluation comprised the excavation of twenty 50m x 2m trenches laid out on a standard grid.
Archaeological remains were revealed within the southern half of the development area, with evidence for a rectilinear field system on a north-east to south-west/north-west to south-east axis being uncovered. A single pit was also found which contained the cremated remains of one individual within the lower backfill. Another field system on a more north to south/east to west axis was also recorded in three trenches.
Within the northern half of the development area evidence was sparser, with occasional shallow ditches on a similar alignment to those in the south, two postholes and a number of tree throws being uncovered. Significant modern truncation and contamination was found within the central belt of trenches, which had impacted upon the archaeological horizon.
The dating of many of these features is difficult, due to the lack of datable artefacts within them. The main rectilinear field system is similar in its alignment with the known Middle Bronze Age field system within the local landscape, and the cremation probably dates to the same period. Ditches relating to the other field system are also poorly dated, but are most probably Romano-British in origin.
Item Type:
Client Report
Uncontrolled Keywords:
archaeological evaluation, peterborough, fengate, bronze age, cremation, unurned, un-urned, pottery, roman, late bronze age, geophysics, geophysical survey, field system, romano-british
Subjects:
Geographical Areas > English Counties > Cambridgeshire
Period > UK Periods > Bronze Age 2500 - 700 BC
Period > UK Periods > Bronze Age 2500 - 700 BC > Late Bronze Age 1000 - 700 BC
Period > UK Periods > Bronze Age 2500 - 700 BC > Middle Bronze Age 1600 - 1,000 BC
Period > UK Periods > Roman 43 - 410 AD
Divisions:
Oxford Archaeology East
Depositing User:

Chris Faine

Date Deposited:
21 Feb 2018 09:43
Last Modified:
21 Feb 2018 09:43
URI:
http://eprints.oxfordarchaeology.com/id/eprint/3474
Actions (login required)