Wenban-Smith, Frances and Norton, Andrew Land adjacent to Powdermill Lane and Hawley Road, Dartford, Kent. [Client Report] (Unpublished)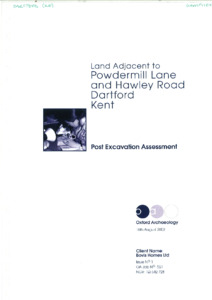 Preview
PDF




DAPMH01_Post_Excavation_Assessment.pdf


Download (1MB) | Preview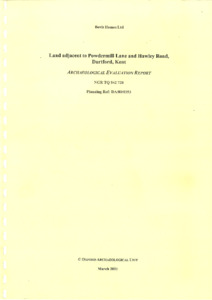 Preview
PDF




DAPMH01_Eval.pdf


Download (15MB) | Preview
Abstract
Following discovery during field evaluation of a deep sequence of undisturbed Pleistocene deposits across land adjacent to Powdermill Lane and Hawley Road, Dartford, a Palaeolithic archaeological monitoring programme was carried out during construction groundworks. The general sequence suggested by the evaluation was confirmed.
No undisturbed archaeological horizons, flint artefacts or large faunal remains were found. A single flint waste flake was found from a gravel bar within the brickearth. The site contains an extensive and deep sequence of Pleistocene deposits, with occasional concentrations of biological evidence. The geological records from the evaluation combined with the molluscan, ostracod and small vertebrate evidence recovered should allow the Pleistocene sequence to be reconstructed and dated, and its formation processes and associated palaeo-climate/environment to be determined.
This assessment report summarises the data recovered during archaeological works and their potential for analysis, and outlines a programme of work to study the data collected and report on the results in accordance with the requirements of the specification by Kent County Council (2001).
Actions (login required)