Bashford, Robin Archaeological Evaluation Report for the National Museum of Science and Industry Wroughton. [Client Report] (Unpublished)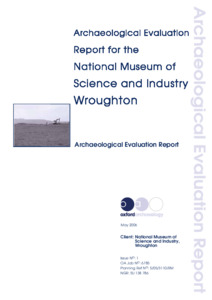 Preview
PDF




B2006_4.pdf


Download (6MB) | Preview
Abstract
In April 2006, Oxford Archaeology (OA) carried out a field evaluation at
the National Museum of Science and Industry at Wroughton Airfield,
Wiltshire. The work was commissioned in advance of proposals for the
construction of a National Collections Centre and an associated
landscaping project.
The evaluation revealed evidence for early Iron Age settlement comprising
post-built circular structures and associated post holes and pits.
A number of large linear features were also revealed, although the exact
nature and function of the features was difficult to establish within the
confines of the evaluation trenches. A small quantity of pottery recovered
suggested that they were backfilled in the Roman period, although they
may be Iron Age in origin. If the tentative interpretation of these features
as linear proves to be correct, a defensive function cannot be ruled out.
Numerous other linear features were identified which may have
represented elements of field systems. Attributing a date and function to
many of them was necessarily conjectural given the paucity of datable
finds. A number of these may be Roman in origin, whilst others are
tentatively interpreted as surviving elements of ridge and furrow.
Evidence for the 1940s landscaping of the site during construction of the
airfield was also revealed. This appears to have comprised the levelling of
certain areas of the site and the subsequent infilling of low lying areas
with the resulting spoil. More recent landscaping was also apparent in
places. There was some evidence to suggest that the levelling may have
compromised the survival of archaeological features.
Actions (login required)