Bedford, William and Laws, Granville National Museum of Science and Industry, Wroughton, Wiltshire. [Client Report] (Unpublished)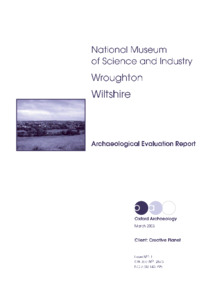 Preview
PDF




B2005_7.pdf


Download (1MB) | Preview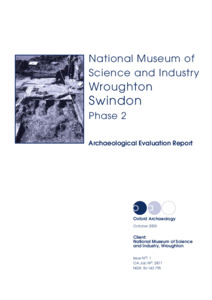 Preview
PDF




B2005_7_Phase2.pdf


Download (1MB) | Preview
Abstract
In March of 2005, Oxford Archaeology (OA) was commissioned by Creative Planet to undertake an archaeological evaluation in advance of the proposed new planting of woodland on the periphery of the airfield at the National Museum of Science and Industry at Wroughton, centred on SU 143 795.
The airfield lies in an area on the edge of the Malborough downs that has a demonstrable relict landscape dating from the Neolithic period through to the Roman period. However, the site itself contained no significant archaeological remains. The evaluation consisted of nine 3.5 m by 1.6 m trenches and one 5 m by 1.6 m trench, evenly distributed across the site.
The sole feature uncovered was a possible shallow ditch which ran NE-SW through the site. The extensive construction work on the airfield during the 1940's does not seem to have resulted in any truncation in the
area.
Phase2
In September 2005, Oxford Archaeology (OA) carried out a field evaluation of a proposed development site on land north of the airfield at Wroughton, Swindon, Wiltshire (NGR SU 143 795) on behalf of the National Museum of Science and Industry. The evaluation revealed a limited quantity of modern archaeological remains that included undated ditches, a probable hollow-way or former track-way, a quarry pit and a the remains of a structure, possibly a gun emplacement, most likely dated to the Second World War.
Actions (login required)