Ladd, Stuart (2017) Land north of The Grange and east of the A10(including allocated site LIT2), Littleport, Cambridgeshire. [Client Report] (Unpublished)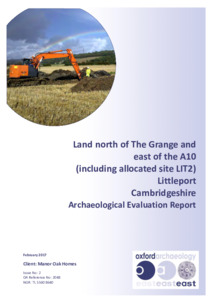 Preview
PDF




LITGRL17_Report_2048_LR.pdf


Available under License Creative Commons Attribution Share Alike.
Download (9MB) | Preview
Abstract
Between 23rd January and 6th February 2017 Oxford Archaeology East excavated 99 evaluation trenches (numbered 1-103, with four excluded) at Land North of The Grange and east of the A10 (including allocated site LIT2), Littleport, Cambridgeshire (TL 5560 8640).
Geophysical survey had identified a pattern of ridge and furrow throughout the field, and other possible archaeological anomalies.
Low level prehistoric activity ranging from the Mesolithic to the Bronze age was evidenced in flints found in plough soils and abraded pottery sherds found in later features. A possible watering hole or natural hollow contained part of a Samian plate and Early Iron Age sherds but the date and nature of the feature were uncertain.
Throughout the site was a system of small agricultural ditches or gullies of potentially Roman or Medieval date, surviving in various conditions according to the level of ploughing in each field.
The system was overlain by the later Medieval to post-Medieval system, including a headland running through the site with extensive ridge and furrow cultivation. This system defined the layout of the fields at least until 1810 and probably until enclosure in 1840.
Undated postholes were also found in several trenches across the site.
Item Type:
Client Report
Uncontrolled Keywords:
archaeological evaluation, cambridgeshire, littleport, A10, pottery, medieval, post-medieval, post medieval, roman, late prehistoric, geophysics, geophysical survey, ridge and furrow, field system, headland, pond, hollow, watering hole
Subjects:
Geographical Areas > English Counties > Cambridgeshire
Period > UK Periods > Iron Age 800 BC - 43 AD > Late Iron Age 100 BC - 43 AD
Period > UK Periods > Medieval 1066 - 1540 AD
Period > UK Periods > Post Medieval 1540 - 1901 AD
Period > UK Periods > Roman 43 - 410 AD
Divisions:
Oxford Archaeology East
Depositing User:

Chris Faine

Date Deposited:
05 Mar 2018 09:15
Last Modified:
05 Mar 2018 09:15
URI:
http://eprints.oxfordarchaeology.com/id/eprint/3500
Actions (login required)