Clarke, Graeme and Webster, Michael (2016) Watford Health Campus. [Client Report] (Unpublished)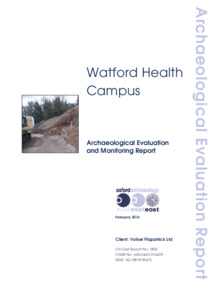 Preview
PDF




Report 1803_LR.pdf


Available under License Creative Commons Attribution Share Alike.
Download (1MB) | Preview
Abstract
Between 30th June and 1st July 2015 and 9th to the 10th February 2016, Oxford Archaeology East carried out an archaeological evaluation and monitoring at Watford Health Campus, Wiggenhall Road, Watford, Hertfordshire (TQ 10878 95475). Two phases of archaeological evaluation along the proposed route of an access road and adjacent infrastructure and a subsequent phase of monitoring of ground works in areas not covered by the archaeological trenching was conducted.
The first evaluation phase consisted of 4 x 50m trenches in Area A, on Sports Pitches, to the east of Wiggenhall Road. These trenches revealed truncated natural chalk and alluvium deposits directly overlain by made ground comprised of modern dumping events and a large modern rubbish pit. These modern deposits contained modern pottery sherds, brick, glass and metal. No archaeological remains were encountered due to the truncation of the natural land surface and levelling of the ground associated with the creation of the sports ground.
The second phase of evaluation consisted of 2 x 15m trenches in Area C, on waste land, which was the site of a former power station, to the west of Wiggenhall Road. These trenches revealed deep set concrete footings of buildings associated with the power station and areas of dumping associated with waste materials from the former power station and later industrial units, which fronted onto the south side of Cardiff Road. No archaeological or natural remains were encountered due to either the truncation of, or make up of the site, during the construction and later demolition of the power station.
The archaeological monitoring visits, in area D, were carried out on two occasions and as with the evaluation, the site had been subject to truncation or modern build up, no archaeological remains were observed.
The evaluation and monitoring at Watford Health Campus has demonstrated that no archaeological deposits or artefacts of significance are present on this site.
Actions (login required)