Graham, Steven (2018) Dales Manor Business Park, Sawston, Cambridgeshire. [Client Report] (Unpublished)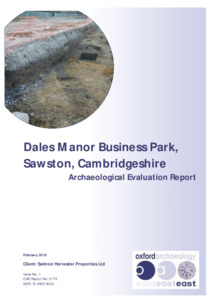 Preview
PDF




Report 2176_LR.pdf


Available under License Creative Commons Attribution Share Alike.
Download (2MB) | Preview
Abstract
Between the 9th and 17th of January 2018, Oxford Archaeology East conducted a trial trench archaeological evaluation at Dales Manor Business Park, Sawston, Cambridgeshire (centred TL 4902 5043). The evaluation consisted of nine trenches, excavated within the proposed development area for warehouses, business units, car parking and loading bays.
The trenching demonstrated that the north-western half of the site had been extensively disturbed by early 20th century quarrying and earthmoving operations, rendering most of this zone archaeologically sterile. The south-eastern half of the site had also been disturbed by levelling, removing almost all of the former topsoil and subsoil horizons, except in very localised patches. However, archaeological survival was found in two areas of the site, focused upon Trenches 3, 8 and 9. The remains uncovered here comprised ditches and pits, with features concentrated in Trenches 8 and 9 in the north-east corner of the site.
None of the features could be be securely dated, but the finds recovered were exclusively prehistoric and included a small number of worked and burnt flints, a single abraded sherd of later Iron Age pottery and fragments of animal bone. It is tentatively suggested that these features belong to a prehistoric boundary system with associated pits. The survival of this system across the southern half of the site is likely to be very limited.
Actions (login required)