Clarke, Graeme (2018) Barton Road Car Park, Ely, Cambridgeshire. [Client Report] (Unpublished)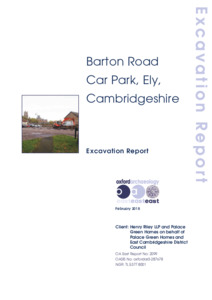 Preview
PDF




Report_2099_LR.pdf


Available under License Creative Commons Attribution Share Alike.
Download (7MB) | Preview
Abstract
Between the 5th and 16th June 2017 Oxford Archaeology East (OA East) carried out excavations at Barton Road Car Park, Ely, Cambridgeshire. Due to a number of factors, the investigation consisted of a further programme of evaluation trenching comprising a total of five additional trenches (Trenches 3-7). The locations of the additional trenches were based on the results of the previous phase of archaeological evaluation. This evaluation had revealed a possible Saxo-Norman ditch and remains spanning the medieval period including: an early to high medieval buried soil containing fragments of pottery, animal bone and charred wheat; and a late medieval boundary ditch. A later (undated) trench like ditch was also revealed cutting the buried soil. In addition, a relict topsoil and subsoil was revealed along part of the southern edge of the site.
The extent of these remains were further defined during the subsequent trenching excavation. Evidence for a long-lived boundary was represented by a set of three ditches in the northwestern part of the site, to the north and parallel to Barton Road. Faunal remains from two of the ditches produced radiocarbon dates of 856-989 cal AD and 1023-1159 cal AD. Continuations of these ditches were not uncovered in the eastern part of the site where they may have been truncated by later activity. The undated ditch feature found during the evaluation was found to be part of a network of trench like ditches, that probably represent wartime practice trenches, excavated by the British Army at this former military barracks site.
The lack of any further remains on the site supports cartographic evidence that demonstrates the site lay (until recently) within the agricultural setting of Barton Manor, beyond the southern limit of the city of Ely. The Late Saxon and early medieval ditches are of local significance when considering the early development of Ely. These provide further slight, but useful and securely dated, evidence for the evolving occupation of Ely between the Late Saxon and early medieval periods on the border of the Bishop's Barton Manor and the developing back-plots extending from Silver Street.
Actions (login required)