Murray, Paul Land to the East of Whelford Road, Kempsford, Gloucestershire. [Client Report] (Unpublished)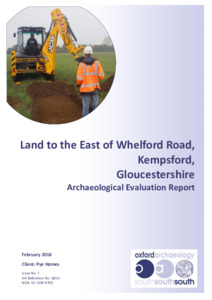 Preview
PDF




OAKWR17.pdf


Download (6MB) | Preview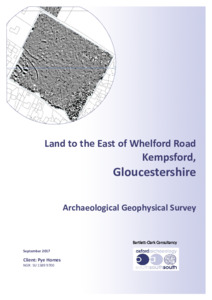 Preview
PDF




OAKWR17_geophysical_report.pdf


Download (6MB) | Preview
Abstract
Oxford Archaeology was commissioned by West Waddy ADP on behalf of Pye
Homes to undertake an archaeological evaluation of land to the east of
Whelford Road, Kempsford, Gloucestershire in advance of proposed
residential development. The trial trench evaluation followed a geophysical
survey and comprised a 2% sample by area of the site, equating to nine
trenches each measuring 30 x 1.8m.
The evaluation uncovered a complex of archaeological features mostly
situated in the western half of the site that corresponded closely with the
results of the geophysical survey. Dating evidence was limited to only three
sherds of pottery, but these indicate activity from the middle Iron Age and
Roman periods.
A possible small rectilinear enclosure was dated to the middle Iron Age and a
penannular gully, possibly a roundhouse, may be of similar date, as may a
second gully identified by the geophysical survey to the south of Trench 4.
The Roman features appear to represent a N-S trackway with a second
trackway branching off to the west. Other ditch features may represent
boundary ditches of enclosures adjoining the trackway.
An undated L-shaped feature in the north-western part of the site is likely to
be part of a rectilinear enclosure.
The features in the eastern part of the site were modern or undated, although
some may nevertheless be associated with the complex to the west.
Actions (login required)