Hughes, Vix Old Cloisters Building Brasenose College Oxford. [Client Report] (Unpublished)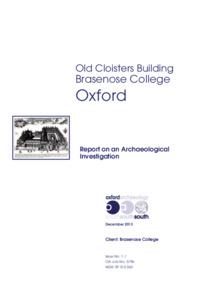 Preview
PDF




OXBCL13_pdfA.pdf


Download (12MB) | Preview
Abstract
Oxford Archaeology South (OAS) carried out an evaluation on the site of a proposed
refurbishment at the Old Cloisters, Brasenose College, Oxford (centred on SP 515
063). The investigation was not subject to local authority planning regulations at this
time but was carried out under the Diocese jurisdiction and planning control.
The work took place between 12th -13th November and 5th December 2013. A total of
four trenches were excavated.
The earliest dated deposit sequences contained pottery in use between 1550-1650
and survived as islands of strata left intact between late 17th and 18th century
graves. These deposits were a (upto) 400 mm thick sequence of mortar floors
interleaved with silts which overlaid an undated homogeneous garden soil.
The main Quadrangle at Brasenose was built in the 16th century with the Second
Quadrangle construction beginning in 1656. The mortar deposits represent a
building or buildings between these two construction phases.
A total of five separate graves were located, but not excavated, within the evaluation
trenches. The graves and marker stones largely corresponded with an historic plan
of the interments, although one marker stone was revealed to have no grave
beneath it.
The graves are undergoing gradual post-depositional decay and consequently it
was observed that there are significant below ground voids where coffins have
disintegrated but the spaces have not infilled with surrounding material.
Actions (login required)