Bush, Louise (2017) Warth Park Phase II, Raunds, Northamptonshire. Project Report. Oxford Archaeology Ltd, Bar Hill, Cambridgeshire. (Unpublished)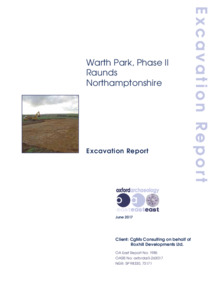 Preview
PDF




Warth Park II exc report_LR.pdf


Available under License Creative Commons Attribution Share Alike.
Download (9MB) | Preview
Abstract
Between October 2013 and January 2014 Oxford Archaeology East carried out open area excavations on farmland off Warth Park Way, Raunds, Northamptonshire (NGR 498330, 273171) ahead of the Phase II construction of an industrial estate with associated amenities. Further to this, a watching brief was undertaken on additional areas between September and October 2014.
The 4ha excavation and 3ha watching brief revealed evidence for intermittent settlement-related activity spanning the Late Neolithic to the Middle Saxon periods. From at least the early 18th century the site has been under cultivation and has consequently suffered from the effects of continual ploughing since then, resulting in features being extremely truncated.
Late Neolithic remains consisted of three small pits containing sherds of highly decorated pottery and burnt animal bone. Most of the archaeology identified relates to Late Bronze Age/Early Iron Age settlement remains, including pit groups and posthole structures along with a cobbled trackway. Artefacts recovered from these features includes pottery, animal bone, baked clay loomweights and two glass beads. Several solution hollows were also present, which contained low levels of highly abraded Early Iron Age pottery.
Romano-British activity is represented by several large postholes and a pit group containing notable amounts of 2nd- to 3rd-century pottery, including a complete samian flanged bowl.
Settlement during the Anglo-Saxon period was indicated by the presence of six sunken-featured buildings (SFBs) which contained large quantities of Early to Middle Saxon pottery, along with loomweights and animal bone. A significant number of small finds were also recovered from these features, including a set of copper alloy tweezers, multiple iron nails, fragments of (Roman) glass, bone combs and bone pins. By the post-medieval period the development site was under strip fields associated with the village of Raunds to the east; by this period the adjacent medieval village of Mallows Cotton located to the immediate west had been abandoned. Evidence of the former Cotton township boundary depicted on the 1739 Raunds Open Fields Survey was identified, along with field boundaries and traces of furrows.
The archaeology uncovered at Warth Park has further demonstrated that this area has been utilised and settled since the Neolithic period, and makes a significant contribution to the study of the development of this landscape. The results complement those from other known archaeological sites in the immediate environs that have been identified through the Raunds Area Project in particular.
Item Type:
Monograph (Project Report)
Uncontrolled Keywords:
archaeological excavation, northamptonshire, raunds, warth park, neolithic, iron age, roman, early medieval, saxon, middle saxon, pottery, samian, complete flanged bowl, settlement, boundary, trackway, cobbles, loomweight, mallows cotton, farming, plough damage, truncation, sunken-featured building, SFB, grubenhaus, comb, bone pin, tweezers, glass bead
Subjects:
Geographical Areas > English Counties > Northamptonshire
Period > UK Periods > Bronze Age 2500 - 700 BC
Period > UK Periods > Iron Age 800 BC - 43 AD > Early Iron Age 800 - 400 BC
Period > UK Periods > Early Medieval 410 - 1066 AD
Period > UK Periods > Iron Age 800 BC - 43 AD
Period > UK Periods > Bronze Age 2500 - 700 BC > Late Bronze Age 1000 - 700 BC
Period > UK Periods > Neolithic 4000 - 2200 BC > Late Neolithic 2700 - 2200 BC
Period > UK Periods > Neolithic 4000 - 2200 BC
Period > UK Periods > Post Medieval 1540 - 1901 AD
Period > UK Periods > Roman 43 - 410 AD
Depositing User:

Chris Faine

Date Deposited:
01 May 2018 13:04
Last Modified:
01 May 2018 13:04
URI:
http://eprints.oxfordarchaeology.com/id/eprint/3540
Actions (login required)