Peacock, Rebecca and Vellet, Peter Land South of High Street Drayton Oxfordshire. [Client Report] (Unpublished)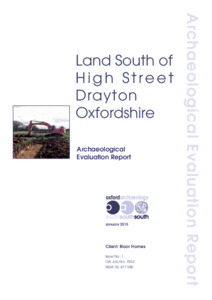 Preview
PDF




DRHS14.pdf


Download (5MB) | Preview
Abstract
Oxford Archaeology (OA) was commissioned by Bloor Homes to undertake
evaluation trenching on the site of a proposed residential development at land south
of High Street, Drayton, Oxfordshire. Twenty-two trenches were excavated,16 of
which contained archaeological features. No features or finds of prehistoric or
Roman date were recorded. All of the identified features date from the medieval and
post-medieval periods, although a few sherds of Anglo-Saxon pottery were
recovered as residual finds from medieval contexts.
Signs of medieval domestic occupation include a pit in Trench 8, the fill of which
contained several fragments of oven furniture from a single structure. The
associated pottery dates from c 1150-1250. Occupation evidence of slightly later
date includes a midden deposit from Trench 28, within the historic curtilage of No.
24 High Street, (known as Whitehorn's Farm in the 19th century). The pottery from
the midden dates from c 1250-1400, and was found underlying a sequence of 18th–
19th century yard surfaces and building foundations associated with a demolished
ancillary building. Possible medieval postholes and boundary ditches were also
found in Trench 8. The features investigated in the fields to the south all appear to
be agricultural boundaries, trackways and other features of low archaeological
significance.
The proposed development is covered by two planning consents:
1) Land to the South of High Street, Drayton. The trenches in this area contained no
significant archaeology that would warrant mitigation. Archaeological features of
probable medieval / post-medieval date are commonplace but comprise cultivation
features, field boundaries and trackways of low significance. The small paddocks
along the western side of the site were not accessible for either geophysical survey
or trenching, which leaves a significant gap in the spatial coverage of the evaluation.
It is proposed that a watching brief be undertaken during construction groundworks
in these areas.
2) Barns and Land to the Rear of 24 High Street, Drayton, (P10/V2089/LB). The
scope of development within this plot is constrained by its location within Drayton
conservation area. Planning consent has previously been granted for barn
conversions and a new build dwelling. Bloor Homes now wish to amend the
approved plans as the combined development of the two plots will require
construction of an improved access from High Street. The surviving medieval
features within the former Whitehorn's Farm complex are not sufficiently important
to act as a constraint on this development, but would justify investigation and
recording before they are lost. It is therefore proposed that selected sections of the
proposed access road be subject to archaeological excavation prior to construction.
Actions (login required)