Cox, Nicholas (2018) Medieval Remains to the North of Green Lane, Reydon, Suffolk. [Client Report] (Unpublished)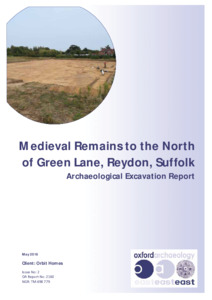 Preview
PDF




Report 2160_LR.pdf


Available under License Creative Commons Attribution Share Alike.
Download (2MB) | Preview
Abstract
Between the 3rd of August and 1st of September 2017 Oxford Archaeology carried out an excavation on land to the north of Green Lane, Reydon, Suffolk (TM 498 779). An area of 2562m2 was excavated around the part of the site where the densest archaeology was identified during a previous evaluation (Cox 2017).
Five phases of activity were revealed by the excavation, the majority of which relate to a series of ditched boundaries that were altered and realigned over a period spanning the 13th-15th centuries. Earlier activity was represented by an undated but possibly prehistoric fire pit containing burnt flint; possibly contemporary with three undated gullies. A background scatter of residual prehistoric pottery and lithics along with Roman CBM was also recovered.
The earliest phases of boundary ditch may have been related to the backs of plots or enclosures extending back from Rissemere Lane East located 80m to the east at the edge of the medieval common. During the later phases the focus of activity appears to have shifted southwards, to Green Lane, with the final phase (14th-15th century) of boundaries laid out at right angles to the road.
Much of the associated activity, mostly comprising sand extraction pits subsequently used for rubbish disposal, was concentrated in the south and south-eastern parts of the site. Although no structures were identified a small hearth was present and waste material from a cooking fire had been disposed of in the upper backfills of a large pit. An area of intercutting quarries had also been utilised as a midden, which produced a relatively large finds assemblage; predominately pottery. The overall pottery assemblage from the site is primarily 13th-14th century in date with some 14th-15th century material present, and is typical of a rural assemblage from this region. Few metal objects were recovered, comprising iron nails and a single copper-alloy thimble of 19th century date found in the subsoil. Environmental sampling produced low levels of charred cereal grains (mainly barley and rye) along with legumes, weed seeds, brambles and charcoal. Preservation of animal bone was particularly poor due to the acidic nature of the sandy soils.
The sequence of boundaries and other features appear to relate to activity on the periphery of medieval settlement, initially associated with the green-edge development to the east and subsequently with Green Lane to the south. After the 15th century the site reverted to agriculture and the field boundaries remained largely unchanged until relatively recently.
Item Type:
Client Report
Uncontrolled Keywords:
archaeological excavation, suffolk, reydon, medieval, post-medieval, settlement, field system, field boundary, extraction, quarry, midden, pottery, rural, thimble, 2160, report 2160, OAE report 2160, CPR, cpr, charred plant remains, rye, barley, ecofact, sample, environmental sample, medieval pottery, prehistoric pottery, residual, residual finds
Subjects:
Geographical Areas > English Counties > Suffolk
Period > UK Periods > Bronze Age 2500 - 700 BC > Early Bronze Age 2500 - 1500 BC
Period > UK Periods > Medieval 1066 - 1540 AD
Period > UK Periods > Post Medieval 1540 - 1901 AD
Period > UK Periods > Roman 43 - 410 AD
Divisions:
Oxford Archaeology East
Depositing User:

Hamilton

Date Deposited:
21 May 2018 07:59
Last Modified:
29 Aug 2018 11:08
URI:
http://eprints.oxfordarchaeology.com/id/eprint/3647
Actions (login required)