Sims, Mike and Underdown, Simon 12-18 Stratford Road Cottages, Buckingham, Buckinghamshire. [Client Report] (Unpublished)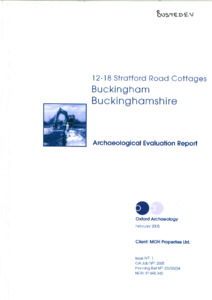 Preview
PDF




BUSTED05.pdf


Download (1MB) | Preview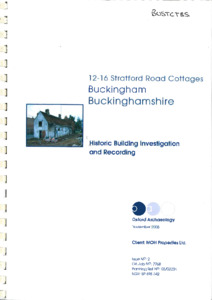 Preview
PDF




BUSTED05_Building_Survey.pdf


Download (3MB) | Preview
Abstract
On the 14th February 2005 OA carried out a field evaluation at 12-18 Stratford Road Cottages, Buckingham, Buckinghamshire (NGR:SP 698 342) on behalf of MOH Properties Ltd. The evaluation revealed two phases of post-medieval roadside culverts and substantial deposits of garden soil. No significant archaeology was discovered.
Oxford Archaeology (OA) has carried out a programme of building investigation and recording at 12-16 Stratford Road Cottages, Buckingham, Buckinghamshire. The work was in advance of demolition of the majority of the buildings and redevelopment of the site and it has been undertaken as a condition of planning approval for the works. OA carried out an Archaeological Assessment and Historic Building Analysis of the site in 2003 which identified Nos. 13-16 as the earliest and most significant building on the site. This building consists of a timber-framed core with three phases of construction probably dating from the 17th to 18th centuries.
The timber framing largely survives in the rear wall where three phases of construction and original wattle and daub and later brick infill have been recorded. A small extension in brick was added to the north end in the 18th or 19th centuries. The front wall was completely rebuilt in brick in the 19th century replacing all the timber framing on that side excepting the wallplate and parts of some mainposts. The roof was raised and rebuilt over the original one which largely survives, and some of the rear wall was rebuilt during the 20th century. No 12 appeared to be externally of early 19th-century construction but may have 18th-century origins and was constructed before the rebuilding of the front wall of Nos. 13-16. Unfortunately, for safety reasons, it was not possible to carry out an internal investigation of No. 12. Various outbuildings at the rear of the property were of 19th and 20th-century date latterly used as a garage and considered to be of limited or no historical interest and were demolished prior to the programme of historic building recording.
Dendrochronological dating was requested but the timber was of poor quality and only one of six samples dated. This was a reused post in the primary phase which gave a felling date of between 1516 and 1529.
Actions (login required)