Webley, Leo and Timby, Jane and Wilson, Martin (2007) Fairfield Park, Stotford, Bedfordshire: Later Prehistoric Settlement in the Eastern Chilterns. The Oxford Archaeological Unit and The Bedfordshire Archaeological Council. ISBN 978-0-9531531-3-8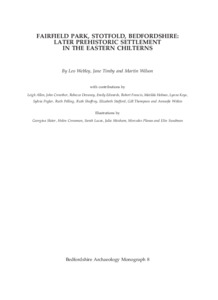 Preview
PDF




fairfield.pdf


Download (9MB) | Preview
Abstract
This volume reports upon the excavation of late Bronze Age to middle Iron Age remains at Fairfield Park,
Stotfold, Bedfordshire, by Oxford Archaeology in 2002–3. The excavations took place at two separate locations
(Sites A and B) within the grounds of the former Fairfield Hospital, which lies on a prominent hilltop. The
earliest features at Site A were datable to the late Bronze Age and included a large, apparently empty
enclosure and an adjacent cluster of pits. Three late Bronze Age cremation burials also occurred, one at Site A
and two at Site B. After a possible hiatus in occupation, substantial settlements were laid out at both sites in
the latter stages of the early Iron Age, around the 5th-4th centuries BC. Features at both settlements included
small enclosures, roundhouses, four-post structures and numerous storage pits. There was some limited
continuity of occupation into the middle Iron Age at Site B. Post-Iron Age activity was limited to agricultural
use of the hilltop.
The site is significant as it represents one of the first large-scale modern excavations of early Iron Age
settlement remains within the region. Extensive assemblages of artefacts and faunal remains were recovered,
along with good environmental evidence. A number of unusual artefacts occurred, including pottery with
unique forms of decoration, a group of atypically early rotary querns, a set of 49 bone weaving tools from
a single pit, and a range of metal objects including an involuted pin with coral studs. Human remains and
articulated animal skeletons had been deposited in several of the pits. The richness of the data is such that
detailed analyses have been possible of spatial patterning both within and between the two settlements.
Actions (login required)