Booth, Paul and Stansbie, Dan (2007) A Rural Roman Landscape at Kempsford Quarry, Gloucestershire. UNSPECIFIED. Oxford Archaeological Unit Ltd.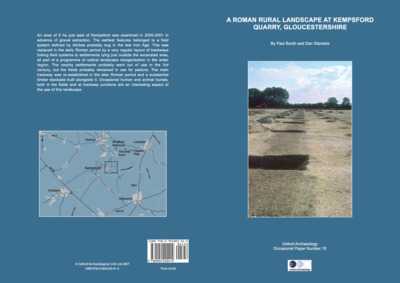 Preview
PDF




Kempsford.pdf


Download (16MB) | Preview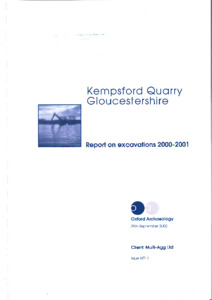 Preview
PDF




KEMUQ00-01.pdf


Download (6MB) | Preview
Abstract
An area of 6 ha just east of Kempsford was examined in 2000-2001 in advance of gravel extraction. The site saw little archaeologically detectable activity before the late Iron Age or possibly a little later, when a ditched field system was established. The was superseeded in the early Roman period by a very regular layout of trackways, linking nearby settlements (just outside the excavated area) with wider field systems. After a hiatus of uncertain duration in the 3rd century the principle trackway was re-established, by which time the adjacent settlements we probably out of use though a substantial post-built stockade was contemporary with this late trackway. Environmental evidence suggests an emphasis on pastoral agriculture, and horse bones were prominent in the small animal remains assemblage. Track junction and other locations were used intermittently throughout the Roman period for burial. The chronology and apparently planned character of the Roman layout from the early 2nd century are discussed in the context of wider developments in settlement patterns in the region.
Actions (login required)