Simmonds, Andrew and Marquez-Grant, Nicholas and Loe, Louise (2008) Life and Death in a Roman City: Excavation of a Roman cemetery with a mass grave at 120–122 London Road, Gloucester. Oxford Archaeological Unit Ltd. ISBN 978-0-904220-49-0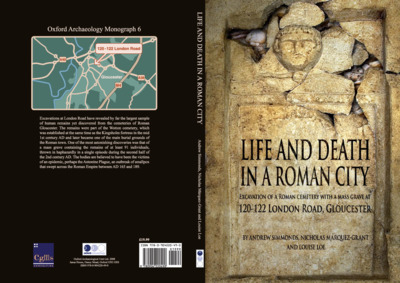 Preview
PDF




london_road.pdf


Download (16MB) | Preview
Abstract
Between August 2004 and January 2006 Oxford
Archaeology undertook a programme of archaeolo-
gical excavation and watching brief in advance of
construction of sheltered apartments on a site
formerly occupied by a disused service station at
120–122 London Road, Gloucester (NGR SO 843
189). These investigations, commissioned by CgMs
Consulting on behalf of McCarthy and Stone
(Developments) Ltd, recorded burials forming part
of the Wotton Roman cemetery, including a rare
mass grave, along with an assemblage of Pleistocene
vertebrate remains (detailed in Appendix 6).
The part of the Roman cemetery within the area of
the excavation comprised the remains of at least ten
individuals recovered from nine cremation burials
and 64 inhumation graves. The cemetery was estab-
lished during the Neronian period as the burial
ground for the fortress at nearby Kingsholm, and
subsequently became one of the main cemeteries of
the colonia that was established at Gloucester follow-
ing the departure of the military. Four crouched
burials dating from the late 1st–early 2nd century are
interpreted as being the remains of members of the
native population who had integrated into the com-
munity at the colonia. Inhumation superseded crema-
tion as the dominant funerary rite during the 2nd
century, after which no further cremation burials
were made. The cemetery continued to be used until
some time in the 4th century. The evidence for funerary rites is described and
the possible beliefs informing them considered. The
demographic make-up of the population and evi-
dence for status based on age and sex have also been
examined. Strontium and oxygen isotope analysis
demonstrated that the population had a range of
origins, deriving both from the local area and also
from elsewhere in the province of Britannia, as well
as a small group probably from the Mediterranean
area and two individuals from another, unidentified
non-UK source.
The mass grave contained the remains of at least
91 individuals, thrown haphazardly into a pit during
the second half of the 2nd century AD. The bodies
showed no evidence of violence and are believed to
have been the victims of an epidemic. It is tentatively
suggested that this may have been the Antonine
Plague, an outbreak of smallpox that swept across
the Roman Empire between AD 165 and 189.
After the disuse of the cemetery at the end of the
Roman period the site appears to have been
abandoned, with no further activity being recorded
until the area was cultivated during the 11th–15th
centuries. Boundary ditches were dug across the site
during the 16th–17th centuries, most likely asso-
ciated with the rebuilding of the adjacent hospital
of St Mary Magdalen at this time. These features
remained open until they were levelled when the
area was developed during the 19th century.
Actions (login required)