Knight, Toby Fulmodeston to Barney S101a Scheme, Norfolk. [Client Report] (Unpublished)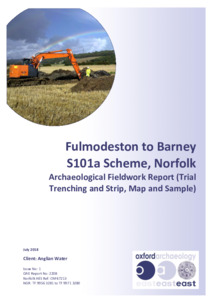 Preview
PDF




Report 2208_withSMS.pdf


Available under License Creative Commons Attribution Share Alike.
Download (3MB) | Preview
Abstract
Between 8th and 9th May 2018, Oxford Archaeology East (OAE) carried out archaeological trial trenching on a plot of land to the east of The Street and Rectory Row, Barney, Norfolk. The trial trenching was carried out on behalf of Anglian Water, in advance of the construction of an access road. The access road is part of a wider project which includes a new rising main, gravity sewer and a pumping station between the villages of Fulmodeston and Barney. Two trenches, each measuring 15m x 2m, were investigated, one in the western field and one in the eastern field.
A single east to west aligned boundary ditch was present in Trench 1, within the western field and close to the western site boundary. The upper fill of the ditch was midden-like in its appearance and yielded all the finds from the ditch, comprising three sherds (165g) of Middle Saxon pottery, an unusual whetstone, which may originally have been a prehistoric polishing stone, and 51g of animal bone. An environmental sample from the same fill yielded abundant charred grain, with lesser quantities of chaff, weed seeds and charcoal, suggestive of occupation nearby. Trench 2 contained no archaeological features.
Due to the presence of significant remains in Trench 1, a second stage of fieldwork – a Strip, Map and Sample excavation (SMS) – was undertaken at the western end of the site between 30th May and 1st June 2018. Two additional trenches were opened in the western field, revealing another 2m of the Middle Saxon ditch in Trench 3, with further inclusions of Middle Saxon pottery (89g) and lava quern (111g) recovered. No other features were encountered. Trench 4 was excavated directly to the east of overhead cables but only natural hollows were present.
The limited scale of the trial trenching and SMS makes it difficult to know exactly what the ditch in Trenches 1 and 3 is associated with, but the presence of the pottery, along with the midden-like upper fill and the location of the site – between St Mary's Church to the west and a medieval moated site directly to the east – make it likely that the ditch is very close to, if not within, a Middle Saxon settlement. The absence of features in Trenches 2 and 4 suggests that such a settlement was restricted to an area close to The Street. Equally, the narrow width of the proposed development means that any associated settlement features may lie to the north or south and therefore outside of the proposed access road.
Item Type:
Client Report
Uncontrolled Keywords:
archaeological evaluation, archaeological strip map and sample, norfolk, pipeline, boundary ditch, early medieval, anglo-saxon, pottery, whetstone, middle saxon, quern, settlement, charred plant remains, CPR, 2208, report 2208, OAE report 2208, early medieval pottery, saxon pottery
Subjects:
Geographical Areas > English Counties > Norfolk
Period > UK Periods > Early Medieval 410 - 1066 AD
Divisions:
Oxford Archaeology East
Depositing User:

Hamilton

Date Deposited:
20 Jun 2018 08:51
Last Modified:
29 Aug 2018 10:51
URI:
http://eprints.oxfordarchaeology.com/id/eprint/3905
Actions (login required)