Kenney, S. (2001) Middle and Late Iron Age and Roman Settlement at Highfields, Caldecote, Cambridgeshire: Assessment and Post-Excavation Project design. [Client Report] (Unpublished)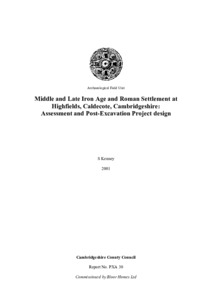 Preview
PDF




CALHF00 PXA complete report.pdf


Available under License Creative Commons Attribution Share Alike.
Download (2MB) | Preview
Abstract
Excavation has been undertaken in Caldecote Highfields, Cambridgeshire. The general potential of the site was defined by a phase of evaluation trenching carried out by the AFU during 1996. Results from the evaluation suggested that an Iron Age and Roman occupation site had survived in the form of earthcut features such as ring ditches, enclosure systems, and pits. It was suggested in the evaluation report that the site did not extend across the whole of the current development area (Oakey 1996).
Recent work has proven beyond all doubt that these claylands were exploited to their fullest potential from the Bronze Age onwards, and the number of excavated Iron Age sites is now multiplying annually as development in Cambridgeshire continues to accelerate.
The southern part of the excavated area at Caldecote forms only a fraction of a settlement site from the Middle Iron Age. The main focus of occupation lies untouched to the south of this, within another proposed housing development. It is not yet known whether this settlement was particularly long-lived, however, the excavated boundaries and probable entrances are repeatedly recut, realigned and restated over time. The final phase of filling seems to indicate a catastrophic demise for this particular site.
Coupled to the usual research aims of understanding the diet, economy and settlement development of this period, there is a particular opportunity with this site to further clarify the nature of the introduction of new pottery types during the Iron Age and to measure their persistence into the Roman period.
Item Type:
Client Report
Uncontrolled Keywords:
archaeological excavation, cambridgeshire, caldecote, post-excavation assessment, updated project design, 2000, iron age, late iron age, middle iron age, pottery, roman, medieval, ridge-and-furrow, cremation, east midlands scored ware, belgic, early roman pottery, settlement, roundhouse, enclosure, field system, PXA30, PXA 30, report PXA 30, report PXA30
Subjects:
Geographical Areas > English Counties > Cambridgeshire
Period > UK Periods > Iron Age 800 BC - 43 AD
Period > UK Periods > Iron Age 800 BC - 43 AD > Late Iron Age 100 BC - 43 AD
Period > UK Periods > Medieval 1066 - 1540 AD
Period > UK Periods > Iron Age 800 BC - 43 AD > Middle Iron Age 400 - 100 BC
Period > UK Periods > Roman 43 - 410 AD
Depositing User:

Hamilton

Date Deposited:
26 Jun 2018 08:45
Last Modified:
28 Aug 2018 20:58
URI:
http://eprints.oxfordarchaeology.com/id/eprint/3942
Actions (login required)