Clarke, Rachel (2009) Late Saxon to Post-Medieval Occupation and Industry to the Rear of Gazeley House and Lawrence Court (Huntingdon Town Centre), Huntingdon, Cambridgeshire: PXA and UPD. [Client Report] (Unpublished)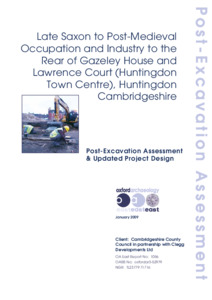 Preview
PDF




Report 1056_LR.pdf


Available under License Creative Commons Attribution Share Alike.
Download (3MB) | Preview
Abstract
Phase 2 of the Huntingdon Town Centre Redevelopment project involved the excavation of three areas located adjacent to, and to the immediate south of, Phase 1 (HUNWHS05 site). The excavations were conducted by Oxford Archaeology East (formerly CAM ARC) from November 2007 until March 2008 on behalf of Cambridgeshire County Council.
Similar evidence was found, with medieval features being dominated by pits of various size, shape and function sealed beneath extensive late medieval and post-medieval layers. No prehistoric, Roman or Saxon features were present, although a number of residual finds from these periods were recovered.
Occupation appears to have started earlier here than was evident on Phase 1, with notably more Late Saxon/earlier medieval features, including a number of timber buildings and a possible SFB, being identified. A particularly significant discovery was a substantial ditch that may be a defensive feature related to the siege of Huntingdon in 1174. A steady increase in activity was noted for the succeeding phase, with the most prolific remains dating to the 'high medieval' (2.4) period. This phase was again characterised by a plethora of pits, possible tanks or troughs, wells and quarries representing the backplots and working areas to the rear of the main frontage and market zones.
Further evidence of late medieval decline and urban contraction, indicated by the presence of an extensive cultivation layer, was found across the site. The economic revival of Huntingdon in the Georgian and Victorian periods was also well-represented with the construction of numerous brick-built structures, drains and garden features associated with Gazeley House and Lawrence Court. Of note was the discovery of Dilley's Yard, a 'lost street' of Huntingdon comprising a mixture of Victorian workshops and dwellings, the foundations of which were remarkably well-preserved.
The large artefactual and ecofactual assemblage will provide invaluable evidence for the development and changing fortunes of Huntingdon from the Norman conquest until the Late Victorian period. This includes new information on a wide range of aspects of medieval life such as local pottery production and craft and industrial activities including bone working, baking, butchery, cat skinning, ?tanning and possibly dyeing. This augments and contrasts with some of the results from Phase 1 and other nearby sites. Further analysis will help chart the development of settlement and should allow zones of activity to be identified that will contribute towards the creation of a topographical model of the medieval and later town.
A further notable aspect of the excavation is the large quantity of post-medieval finds including glass, pottery and clay pipe which comprises a very rare example of a Georgian and Victorian assemblage from a small urban centre. Much of this largely domestic assemblage can be directly related to the occupants of Dilley's Yard and Gazeley House.
Item Type:
Client Report
Uncontrolled Keywords:
archaeological excavation, cambridgeshire, huntingdonshire, huntingdon, town centre redevelopment, early medieval, saxon, late saxon, medieval, post-medieval, post medieval, sfb, sunken featured building, oven, well, quarry, pottery, timber building, back plots, tanning, clay pipe, garden feature, lost street, Dilley's Yard, gazeley house, siege of huntingdon, 1174, phase 2, animal remains, 1056, report 1056, OAE report 1056, early medieval pottery, medieval pottery, saxon pottery, late saxon pottery
Subjects:
Geographical Areas > English Counties > Cambridgeshire
Period > UK Periods > Early Medieval 410 - 1066 AD
Period > UK Periods > Medieval 1066 - 1540 AD
Period > UK Periods > Post Medieval 1540 - 1901 AD
Divisions:
Oxford Archaeology East
Depositing User:

Hamilton

Date Deposited:
29 Jun 2018 07:43
Last Modified:
28 Aug 2018 21:01
URI:
http://eprints.oxfordarchaeology.com/id/eprint/3956
Actions (login required)